Pascal Tepper's Kale, Prawn and Avocado Salad
Recreate Pascal Tepper's Kale, Prawn and Avocado Salad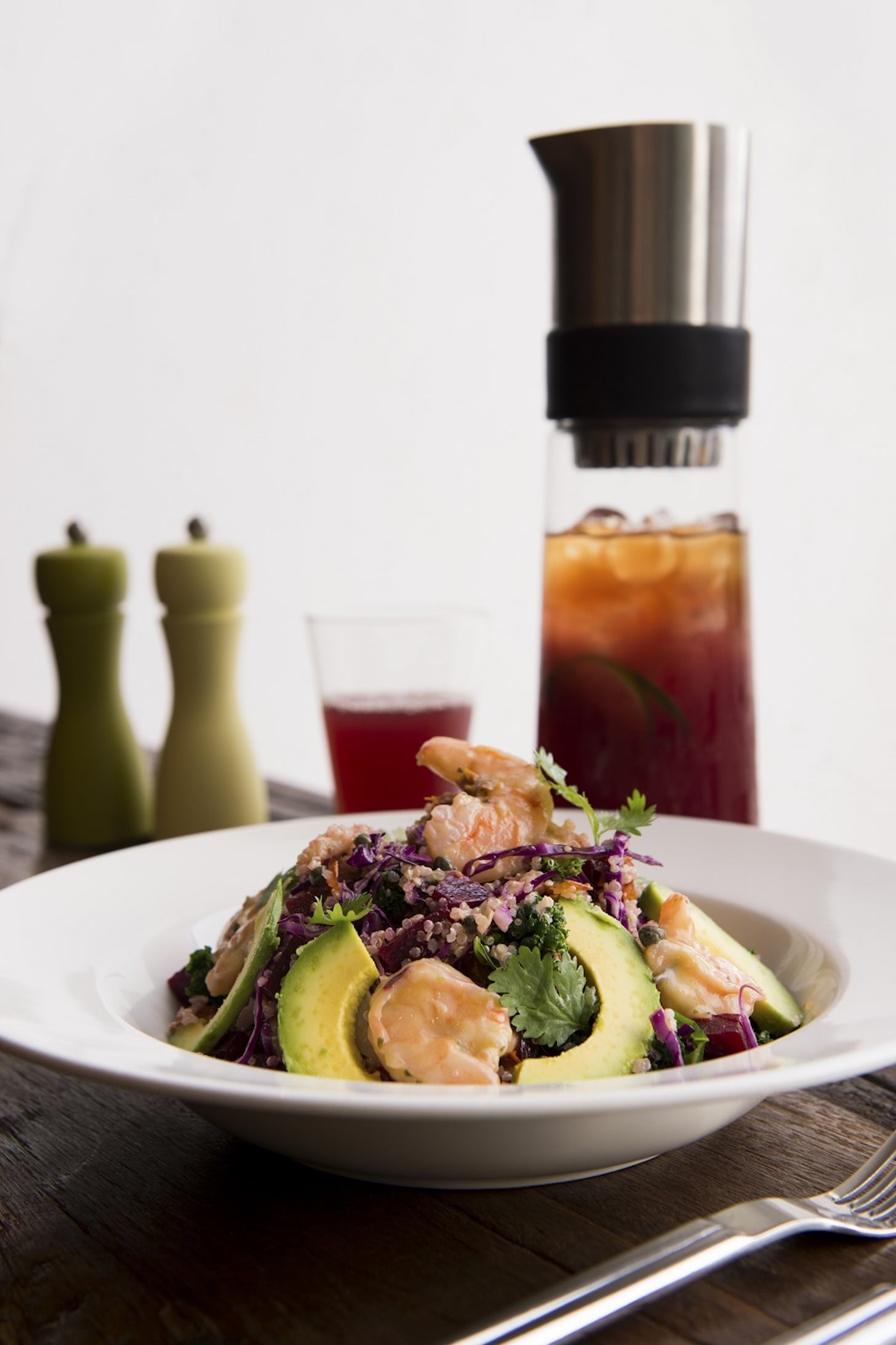 Lunchtime spot, Pascal Tepper, is famous for its healthy salads so follow this recipe to recreate the popular Kale, Prawn and Avocado Salad at home and pack it on your lunchbox for the next day. It will keep you going until dinner!
Kale, Prawn and Avocado Salad
Pascal Tepper
Ingredients
8g Blanched Kale
70g Finely Shredded Red Cabbage
70g Quinoa
15g Lilliput caper
60g Artichoke Hearts
40g Avocado
1g Coriander leaves
50g Beetroot confit
65ml Soya & Maple vinaigrette
70g Slow Cooked Prawns
30ml Sliced Sundried Tomatoes
1g Salt and Pepper (to taste)
FOR THE VINAIGRETTE:
450ml Cider vinegar
150ml Soy sauce
300g Dijon mustard
450ml Maple syrup (organic)
1,500ml Evo oil
2g Pepper (to taste)
Directions
Add the kale, quinoa, cabbage, beetroot, sun-dried tomato and 10g of Lilliput capers to a bowl.
Add 50ml of soy and maple syrup dressing, season to taste and stir well.
Dress the mixture on a salad plate.
Arrange the sliced avocado over the top and drizzle leftover capers.
Marinate prawns with 15ml of soy and maple syrup dressing, then arrange between the avocado slices.
Arrange the coriander leaves around as set in the picture.
FOR THE SOY AND MAPLE VINAIGRETTE:
Add cider vinegar, mustard, maple syrup and soy sauce to a bowl and stir well.
Add olive oil and whisk well.
Season with pepper.
Information
Category

Main Dishes