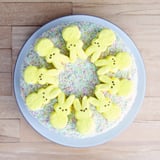 Ingredients
For the funfetti cake:
6 large eggs
2 cups water
1 cup vegetable oil, plus more for greasing the pans
2 boxes funfetti cake mix
For the vanilla buttercream:
2 cups (4 sticks) unsalted butter, at room temperature
6 cups (24 ounces) powdered sugar, sifted
2 teaspoons kosher salt
2 teaspoons vanilla extract
1/4 cup milk
For decorating:
1 (5-ounce) jar rainbow sprinkles
1 package Peeps bunnies
Directions
Make the cake: Preheat the oven to 350°F. Oil 2 9-inch round cake pans and line the bottoms with a piece of parchment paper.
Lightly beat the eggs with a whisk in a large mixing bowl, add the oil and water, and whisk until smooth. Add the cake mix, and mix together until incorporated.
Divide the batter between the prepped cake pans. Bake for 35-40 minutes, or until golden brown on top and a toothpick comes out clean when inserted in the center. (Rotate the cake pans halfway through.) Let the cakes cool in the pans for 15 minutes (set the pans on a cooling rack) before running a butter knife around the edge of each cake and carefully removing the cakes from the pans. Let the cakes cool completely before frosting.
Make the vanilla buttercream: Meanwhile, using an electric mixer, beat together the butter, powdered sugar, and salt on low speed until combined, about 2 minutes. Scrape down the sides of the bowl, increase the mixer speed to medium­ high, and beat until fluffy, about 3 minutes. Add the vanilla and milk, and beat on medium­-high speed until the frosting is light and fluffy, 3-5 minutes.
Decorate the cake: Trim away the domed tops of each cake layer using a serrated knife or cake leveler. Put a dollop of frosting in the center of the plate or cake stand you'll be serving the cake on, and transfer one of the cake layers to the stand, right side up, using the frosting to glue the layer in place. Reserve about 1/4 cup frosting. Spread about 1/3 of the frosting onto the top of the layer. Put the second layer on top of the first, upside down (so the flat bottom becomes the top of the layer cake), and top with another 1/3 of the frosting. Spread the last 1/3 of the frosting on the sides.
Set the cake plate or stand inside a large rimmed sheet pan, and start decorating with the rainbow sprinkles. (The rimmed sheet pan will catch sprinkles that roll off the cake so you can reuse them.) Completely cover the top and sides of the cake with rainbow sprinkles, gently pressing them into the frosting. Put a dab of frosting on the back of each Peeps bunny (the frosting works as glue) before decorating the top of the cake with the bunnies.
Information
Category

Desserts, Cake

Yield

Serves 10-12