Pesto Pasta Salad Recipe
Potlucks, Picnics, and Your Lunch Hour Won't Know What Hit Them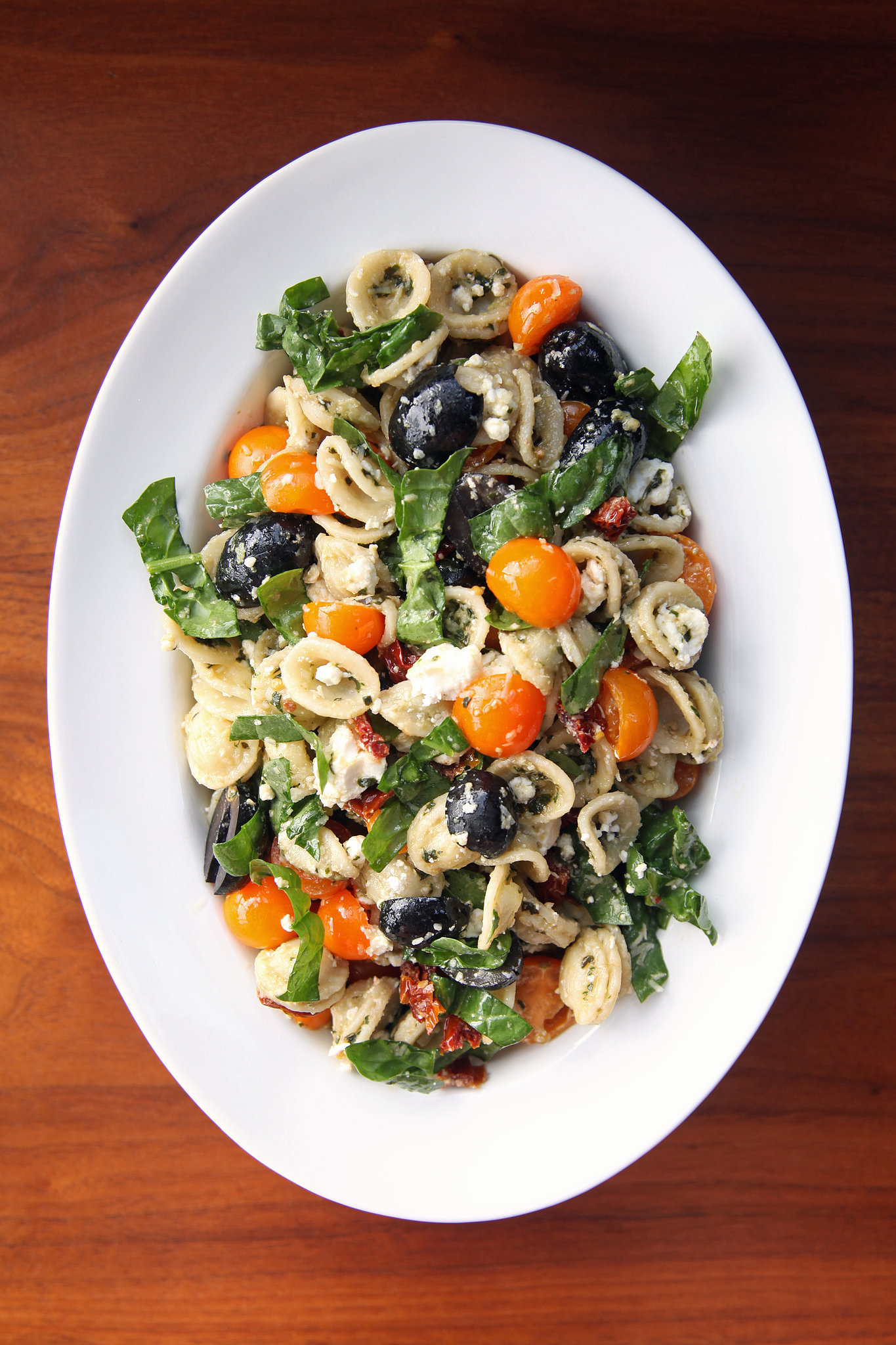 During the Summer, I love making salads that can be tossed in the fridge and eaten later in the week. In order to do this, the salads have to be hearty and durable; they can't be mayonnaise- or greens-based salads.
The obvious salad that comes to mind is pasta. And since basil is at its peak during the warm months, pesto pasta salad has quickly become my favorite. I like to think of this recipe as a blank canvas. Start with cooked pasta and homemade pesto, then add in a bunch of ingredients.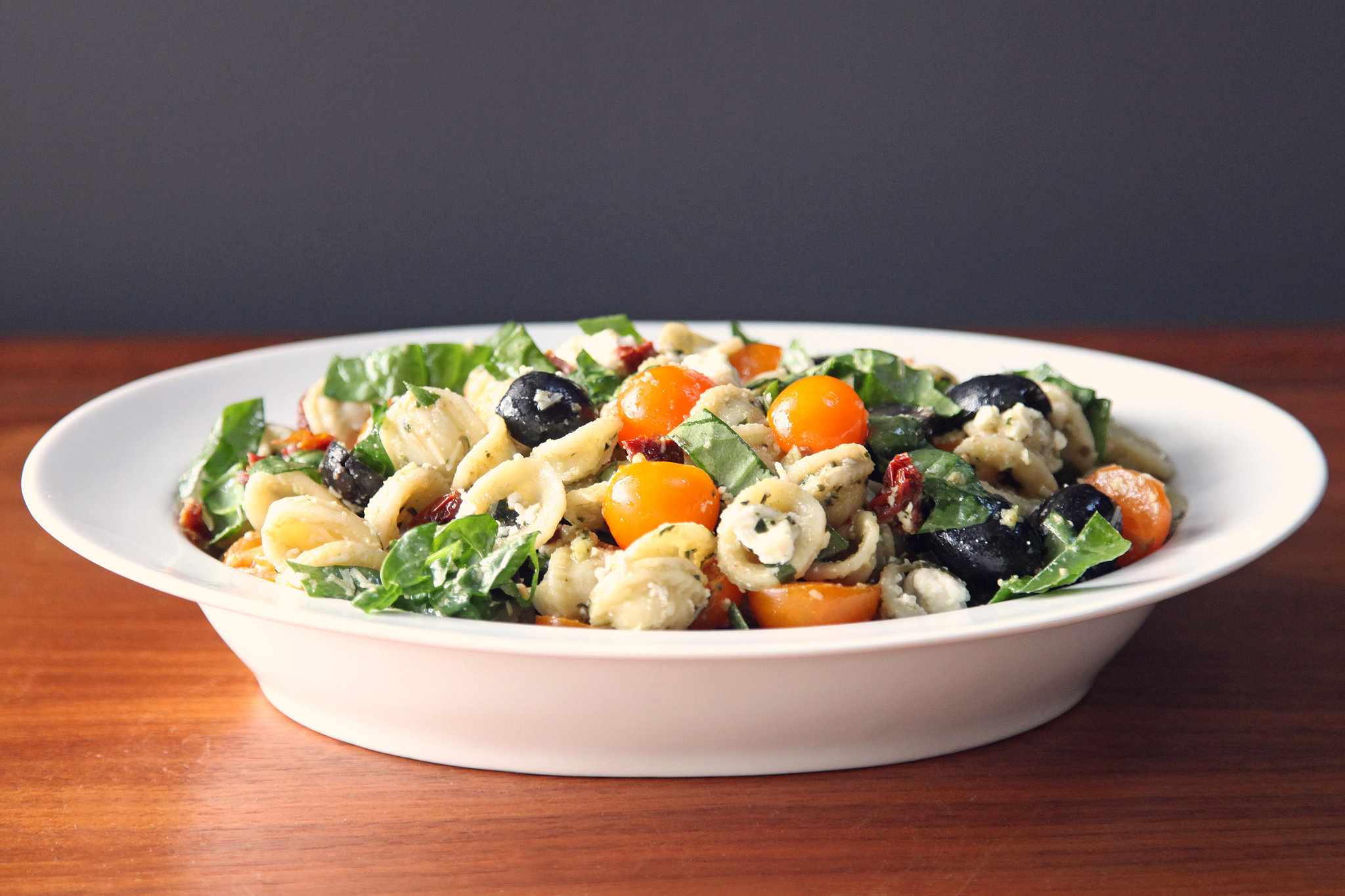 Antipasto elements like olives, tangy cheese, and marinated vegetables are wonderful. Fresh veggies — spinach, tomatoes, mushrooms, and zucchini — also work well. A protein such as tofu, grilled chicken, or salami would be delicious, too. I recommend using my recipe as a guide and substituting in the elements your family enjoys.
Pesto Pasta Salad
Adapted from Katie Sweeney, POPSUGAR Food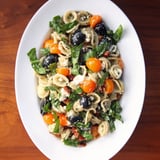 Ingredients
For the pesto:
1/4 cup extra-virgin olive oil
2 heaping tablespoons walnuts, toasted
1-2 cloves garlic, peeled
1/2 cup basil leaves, packed
1/2 teaspoon kosher salt, or more to taste
Freshly ground black pepper
1/2 cup finely grated parmesan cheese
For the salad:
Kosher salt
1/2 pound (about 2 cups) orecchiette or other short pasta shape, such as fusilli or radiatore
30 black kalamata olives, pitted and roughly chopped
1 1/2 cups fresh spinach, sliced into thick ribbons
1 cup grape or cherry tomatoes, halved
1/4 cup sun-dried tomatoes in oil, roughly chopped
1/2 cup crumbled feta
1/2 cup finely grated parmesan cheese
Directions
Make the pesto: In a food processor, combine the toasted walnuts with the olive oil and garlic. Process until smooth. Add the basil, salt, and pepper; process until smooth. Turn out into a large mixing bowl, and fold in the parmesan cheese.
Make the pasta salad: In a large pot of salted boiling water, cook the pasta according to the directions on the label or until al dente. Drain, and let cool slightly.
Add the pasta to the pesto; toss to coat evenly. Add the remaining ingredients, and toss gently until everything is combined.
Serve at room temperature. Taste and adjust the seasonings (adding more salt as necessary) before serving, as the flavors will be muted at a cooler temperature.
Information
Category

Pasta, Main Dishes

Cuisine

Italian

Yield

Serves 4
Image Source: POPSUGAR Photography / Nicole Perry