Phan Sib Sae Poo
These Crab and Sweet Potato Dumplings Really Get the Party Started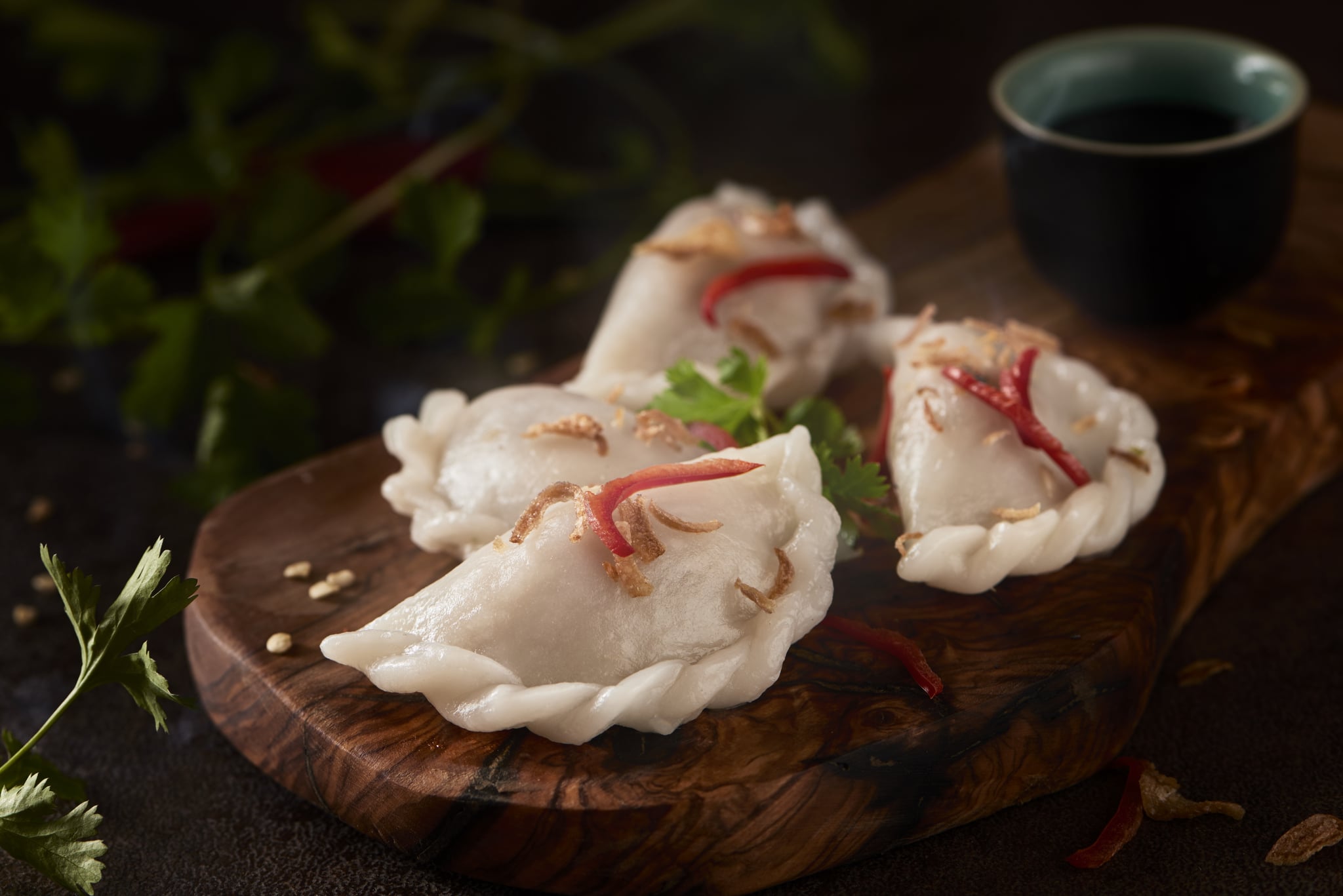 Pai Thai is on the best restaurants, specializing in cuisine from Thailand, in Dubai. So where better to go for advice in Thai cooking than here? Chef Aphichat Amatmontri has rustled up a brand new appetizer of Phan Sib Sai Poo (crab dumpling with onion, sweet potato, coriander and sweet soya sauce) for their Songkran menu but if you can make it down the Madinat Jumeirah in time for Thai New Year, here's what you can do at home to impress your party guests.
Ingredients
Ingredient for Crab meat:
5g Coriander root
5g Garlic
20g Red onion
20ml Soya sauce
15g Sugar white
20g Sweet potato
40g Crab meat jumbo
20ml Oil
2g White paper powder
Ingredients for Dough:
50g Rice flour
25g Arrowroot flour
10g Corn flour
10g Tapioca flour
25ml Coconut milk
50ml Water
Ingredients for Sweet Soya Sauce:
25ml White vinegar
15g Sugar white
4g Salt
15ml Sweet soya sauce
Directions
To prepare the crab meat filling, fry the garlic, coriander root and onion in oil and then add the sweet potato.
Fry until cooked through. Next marinate the crab meat in a mixture of soya sauce, sugar, salt and pepper before frying at a low heat for 5 minutes.
Once cooked through, season with salt and pepper.
Next create the dough for the dumplings by mixing all the different flours in a mixing bowl, before adding in the water and coconut milk.
Massage together thoroughly with your hands, gradually adding water and kneading until the dough is soft and blended together.
Next create the sweet soya sauce by mixing all the ingredients in one pan and boil on a low heat until sauce has reached the desired consistency. Leave to cool.
Finally to create the dumplings, roll out the dough, place the crab meat on top and wrap it all up, pinching the dough at the top to create a parcel.
Roll the dough into balls diameter. Flat the ball into circles. Scoop up 1 teaspoon of the filling, place at the centre.
Fold the dough over to make a half circle and crimp at edges.
Place this on an oiled banana leaf and steam for 5-8 minutes.
Garnish with fried onion, coriander and red chili, and add the sweet chili soya sauce to finish.
Information
Category

Appetizers

Cuisine

Other Asian
Image Source: Pai Thai