Pizza Fidget Spinner
From Mona Zavosh, POPSUGAR Food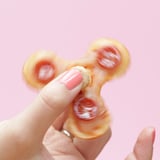 Ingredients
1 plain frozen pizza crust
1 tablespoon pizza sauce
3 tablespoons shredded mozzarella cheese, divided
12 mini pepperonis
4 pretzel sticks
Spinner template
Directions
Preheat oven to 450°F.
Remove the pizza dough from the plastic wrapper and allow it to defrost on a cutting board for about 10 minutes.
While the dough is defrosting, cut 4 pretzel sticks into 5/8-inch pieces and set aside.
Once the dough has defrosted, use a craft knife to cut out 4 spinners. Use a round pastry tip to cut out a circle in the center of the spinner. If your pastry tip is too small for the cookie stick, stretch out the center by moving the tip in a circular motion in the cutting board. Using the large side of the same pastry tip, cut out 8 circles.
Place the spinners and the circles onto a 9x13 baking sheet, then place another 9x13 baking sheet on top of the dough pieces. Bake for 15 minutes. Remove the top baking sheet and allow the dough pieces to cool, setting the round bearings aside.
Spoon 1/4 teaspoon pizza sauce and sprinkle 1/4 teaspoon mozzarella cheese onto each fidget spinner, covering it but leaving the center hole free. Top each arm with one mini pepperoni. Bake for 8 minutes.
Allow the pizzas to cool slightly before adding the pretzel stick and round pizza bearings.
Place 2 tablespoons shredded mozzarella cheese into a small ramekin and microwave for 10 seconds. Use a bamboo skewer to stir the cheese, then microwave again for 10 seconds.
Use the melted mozzarella cheese to secure the 5/8-inch pretzel stick onto one of the pizza bearings. Allow it to set for 1 minute. Once the mozzarella has set, run the stick through the center of the spinner. Add more melted mozzarella cheese to the second pizza bearing and attach to the pretzel stick. Once the second bearing has set, pick up your fidget spinner and spin, spin, spin!
Information
Category

Appetizers

Yield

4 fidget spinners