Raw Rose and Pistachio Vegan Cheesecake
You'll Never Guess What This Vegan Cheesecake Uses to Get So Creamy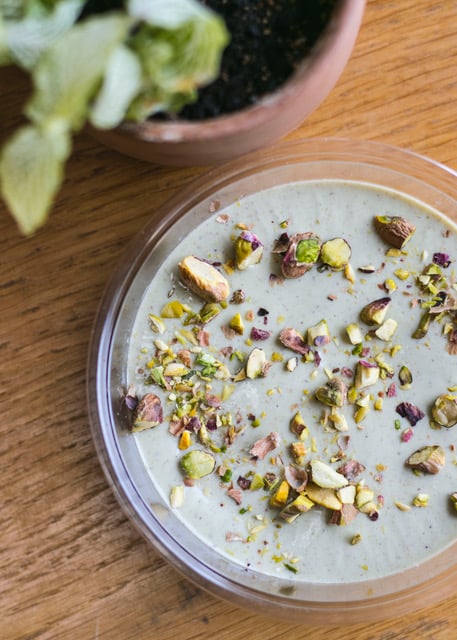 Whoever said that cheesecakes can't be creamy without cream cheese clearly don't know what they're talking about. This recipe for raw Rose and Pistachio cheesecake uses cashews and almond milk to get its luscious, creamy factor. Check out the full vegan recipe from Wild & The Moon.
Raw Rose and Pistachio Cheesecake
Wild & The Moon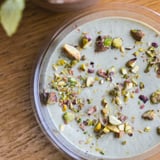 Ingredients
For the Crust:
100g Walnuts
70g Dried almonds
50g Desiccated coconut
Pinch of salt
110g Maple syrup
For the Filling:
600g Cashew nuts
900g Coconut oil
400g Almond milk (unsweetened)
70g Date paste
35g Rose water
210g Lemon juice
Pinch Vanilla powder
90g Pistachio butter
Directions
For the Crust:
Place all ingredients in a food processor and pulse until coarse in consistency.
Take out and place in a clean bowl.
Weight up the crust to 50g and place in desired moulds.
Gently press using clean fingers or metal spoon, making sure to press to the edges (so the filling will not leak in the gaps).
Chill for 30 minutes while you prepare the filling.
For the Filling:
Place the cashew nuts in water and allow to soak overnight, strain and wash, and allow to drain for 5 minutes.
Place all ingredients excluding the pistachio butter in a food processor and blend until smooth and glossy.
When ready, pour in a bowl.
Take out the set crust base and pour in 50g of the cashew mixture in each mould.
Place in the freezer to set.
Mean while, with the rest of the cashew mixture place the pistachio butter and whisk until fully combined.
When the cheesecake is set, pour over 30g of the mixture, and place in the freezer to set again.
To serve, a take out of the freezer 1 hour before eating, garnish with chopped pistachios.
Information
Category

Desserts

Cuisine

Other

Yield

10

Total Time

1 hour, 24 minutes, 59 seconds