Red Velvet Cinnamon Rolls | Food Video
Cinnamon Roll-ify Red Velvet Cake
Cinnamon rolls are one of our favorite breakfast foods, and red velvet is our favorite dessert. We've combined the two together, and we can't get enough. These red velvet cinnamon rolls are the stuff dreams are made of. Make these for your next brunch or even as a dessert and watch the sweet-toothed mobs ensue.

Red Velvet Cinnamon Rolls
From Alyssa Noui, POPSUGAR Food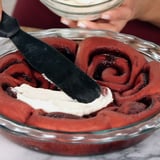 Ingredients
For the dough:
3 1/2 to 4 cups all-purpose flour, divided
1/2 cup sugar
2 tablespoons cocoa powder
2 (1/4-ounce) packets active dry yeast
1 teaspoon salt
6 tablespoons butter
1 1/2 cups water
1 tablespoon red food coloring
1 egg
For the filling:
1/2 cup sugar
2 teaspoons cinnamon
2 tablespoons cocoa powder
1/2 cup butter, softened
For cream cheese frosting:
4 ounces cream cheese, softened
4 tablespoons butter, softened
2 cups powdered sugar
1 teaspoon vanilla extract
Pinch of salt
Directions
To make the dough: Combine 2 cups of flour with sugar, cocoa powder, dry yeast, and salt in a stand-up mixer fitted with a dough hook. Mix until combined.
Microwave butter and water until warm but not hot to the touch, approximately 120ºF-130ºF. Butter will not melt completely. Pour in red food coloring. Add to the flour mixture, followed by 1 egg, and beat for 2 minutes at high speed, scraping down the bowl occasionally. Add an additional 1 cup of flour, and continue mixing. Stir in just enough remaining flour so the dough will form into a ball.
Knead dough on heavily floured surface for about 6-8 minutes, until smooth and elastic. The dough should spring back when lightly pressed. Cover with a towel and let rest for 10 minutes.
For the filling, combine sugar, cinnamon, and cocoa powder in a small bowl. Set aside.
Roll the dough into a 10-inch-by-16-inch rectangle using a rolling pin. Spread butter over the dough and sprinkle with cinnamon mixture. Beginning at the long end of the rectangle, roll dough tightly, pinching to seal. Cut into equal 1-inch pieces using unflavored dental floss or twine for a clean cut. Place rolls, cut-side down, in a greased baking sheet. Cover with a towel and let rise for 45-60 minutes, or until the dough has doubled in size.
Preheat oven to 350ºF, and bake for 23-28 minutes, or until rolls are golden on top and cooked through. Remove from oven and cool for 10-15 minutes.
To make frosting: Combine cream cheese, butter, powdered sugar, vanilla, and salt until creamy. Spread evenly over rolls.
Information
Yield

16 to 18 servings

Total Time

2 hours, 59 minutes, 59 seconds