Red Velvet Slutty Brownies
Stuffed Brownies Just Became Naughtier With This Addition
Just when you thought slutty brownies couldn't get any naughtier, we took them to the dark side with oh-so-seductive red velvet devil's food cake . . .
Red Velvet Slutty Brownies
From Brandi Milloy, POPSUGAR Food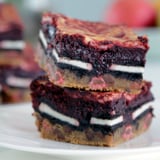 Ingredients
1 pound chocolate chip cookie dough
1/3 cup red M&M's
1 package Double Stuf Oreos
1 box red velvet brownie mix
2 eggs
1/3 cup water
1/3 cup vegetable oil
1 teaspoon red food coloring
8 ounces cream cheese, room temperature
1/3 cup sugar
1/2 teaspoon vanilla extract
Directions
Preheat oven to 350ºF. Line the bottom of an 8-inch-square baking pan with aluminum foil and spray with nonstick cooking spray.
Knead together the cookie dough with red M&M's to distribute evenly and press the cookie dough into the pan, creating an even later. Top the cookie dough with Oreos, being sure to pack them as close together as possible.
In another mixing bowl, combine the red velvet brownie mix with 1 egg, water, vegetable oil, and red food coloring. Pour batter over the cookie dough and Oreo layers evenly. Use a spatula to flatten the top and make sure the batter has filled every nook.
In a mixing bowl, mix together cream cheese with 1 egg, sugar, and vanilla extract until smooth. Drop in dollops onto the prepared brownie batter and gently swirl the two batters together with a butter knife.
Bake brownies for 35-40 minutes, or until the brownies and cheesecake are set. A toothpick inserted into the center should come out clean. Remove from the oven and let cool.
Once the brownies are cool, cut into 2-inch squares and serve.
Information
Category

Desserts, Brownies

Yield

9 Servings