Risotto Sayadiyeh
Flooka Abu Dhabi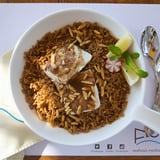 Ingredients
1kg risotto rice
1/2 tbsp cumin
2.5l fish stock
1 tbsp sweet pepper
1 tbsp cinnamon powder
1 tbsp salt
20ml olive oil
50g butter
200g mussels
120g calamari
150g shrimps
30g chopped onion
Directions
In a big pan, heat olive oil, butter and sautéed the chopped onion and fried until brown.
Then, add the rice and all the spices with the fish stock and bring to boil.
Lastly, add in the mussels, shrimp, calamari and let it simmer.
After boiling it for 15 mins, the risotto is ready to be served!
Information
Category

Main Dishes

Cuisine

Mediterranean/Middle Eastern

Yield

8