Risotto Zucca Porcini (Risotto with Pumpkin and Mushrooms)
The Secret to the Perfect Risotto Probably Isn't What You Think
Cooking on too low a heat, using too wide a pot or perhaps not enough stock... all things that are said to ruin a risotto before you've even had the chance to really put some love into it. But according to Head Chef Eros Brambilla at Ravioli&Co. in Dubai's DIFC neighborhood, making Risotto Zucca Porcini (risotto with pumpkin and porcini mushroom) is all about using the right utensil. Read on to find out how it's done right.

Risotto Zucca Porcini (risotto with pumpkin and porcini mushroom)
Ravioli&Co.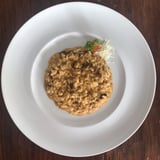 Ingredients
200G Carnaroli rice
10g Chopped onion
1l Vegetable Stock
50g Butter
Salt and pepper
2 tbsp Olive oil
50g Porcini mushrooms
1 clove Garlic
80g Pumpkin Butternut
50g Parmigiano
Directions
Cut the porcini into thin slices.
Put a sauce pan over a medium flame stove then add the olive oil, the garlic and the porcini, cook for five minutes and season with salt and pepper.
Set the pan aside and meanwhile begin peeling the pumpkin, remove the seeds, cut into cubes and season with olive oil, salt and pepper. Place this in a baking tin covered with aluminum foil and bake in the oven at 180° for 30 minutes or until the pumpkin is soft and when complete, mash it with a fork.
For the risotto:
Melt half of the butter (25g) in a pan on medium/high heat with finely chopped onion. Once the onions are translucent and soft, add the rice and stir for few minutes.
Keep the pan over a medium heat and pour in a quarter of the vegetable hot stock (250ml). Simmer the rice, stirring often, until the rice has absorbed all the liquid.
After 10 minutes add the porcini mushroom and the mashed pumpkin and continue to cook for 6 to 8 minutes while adding the remaining stock - it should start to become creamy, plump and tender. Don't forget to stir with a wooden spoon- that's the secret to the perfect risotto.
Remove the pan from the stove, set it aside, and add the parmigiano and butter for the "mantecatura". Cover for 2 minutes ….a tavola è pronto il risotto.
Information
Category

Main Dishes

Cuisine

Italian

Yield

2