Salmon Fish Cakes Recipe From tashas
The Key Is More Fish Than Potatoes For These Famous Salmon Fish Cakes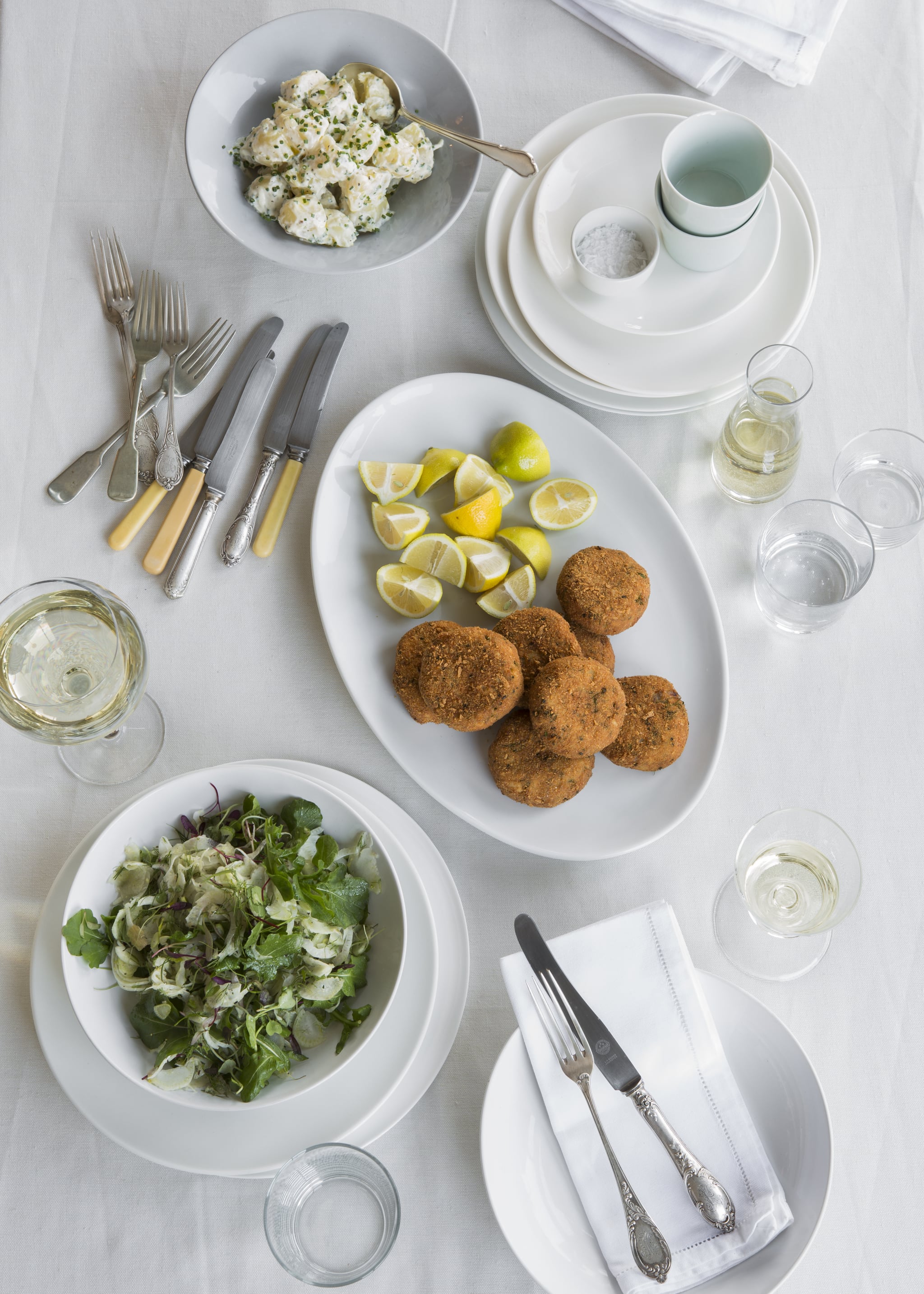 These fishcakes are an iconic tashas menu item. They're so popular that people have been begging for the recipe since we first opened. This was the one recipe we knew for certain we had to include in the book. We use tinned salmon instead of tuna and more fish than potato for our fish cakes. They are lovely served plated or as part of a summer salad buffet.
Ingredients
FISH CAKES
250g baby potatoes
5 small tins salmon
5 eggs
60ml lemon juice
15ml lemon zest
300ml mayonnaise
1 small red onion, chopped
A small handful of dill, chopped
A small bunch of chives, chopped
Salt and pepper
150g breadcrumbs
Oil for deep-frying
POTATO SALAD
24 baby potatoes
60g mayonnaise
120ml yogurt
20ml red wine vinegar
Pinch of chives, chopped
Salt and pepper
Olive oil
ROCKET, FENNEL & HERB SALAD
Handful of rocket
1 fennel bulb, finely sliced
Handful of micro greens
Lemon juice
Olive oil
Salt and pepper
1 lemon, cut in wedges
Directions
Start with the fish cakes.
Cook the baby potatoes in boiling, salted water. When they are done, peel them and roughly chop into small pieces. Don't mash them or you'll end up with a mushy fish cake.
Drain the tinned salmon and remove the skin and bones.
Mix the potatoes and salmon with all the remaining fish cake ingredients in a mixing bowl.
Roll into 6 cm balls. Flatten them a bit and cover them lightly with breadcrumbs.
Deep-fry until they are golden brown.
To make the potato salad, cook the potatoes in boiling, salted water. When they are cooked, peel and cut them in half.
Mix the mayonnaise, yogurt, red wine vinegar, chives, salt and pepper and a drizzle of olive oil, and dress the potatoes.
Garnish with a sprinkle of chives.
Mix the rocket, finely sliced fennel and micro greens together.
Dress with a squeeze of lemon and olive oil, season with salt and pepper.
Serve on the side of the fishcakes with a few lemon wedges.
Information
Category

Appetizers