Salmon Sushi Roll Recipe
Sushi For Newbies: A Smoked Salmon Roll
Those new to sushi should learn from the best. Season three Top Chef winner Hung Huynh, who is now the executive chef of two New York City eateries Catch and The General, stopped by to share his recipe for smoked salmon sushi rolls. See the video to learn the technique, then take a look at the recipe to try it yourself!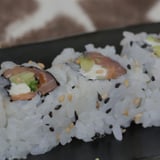 Ingredients
2 nori sheets, cut in half
8 ounces prepared sushi rice
8 ounces smoked salmon
8 ounces avocado, sliced thinly
4 ounces cream cheese, cut in thin rectangular pieces
8 ounces cucumber, julienned
4 tablespoons toasted white sesame seeds
4 tablespoons toasted black sesame seeds
Directions
On a smooth, clean surface, lay 1/2 sheet of nori flat. Wet hands with cold water and evenly spread two ounces sushi rice over nori sheet. Flip nori sheet over. In the center of the nori sheet, place one ounce cream cheese, two ounces smoked salmon, and two ounces avocado. Starting at the bottom of nori sheet, roll the sushi away from your body, tucking the ingredients tightly inside. Use a bamboo sushi mat, covered in plastic wrap, to pack the rice tightly. Sprinkle with a tablespoon each of white and black sesame seeds. Use a wet knife to slice sushi into five even pieces. Repeat process with remaining ingredients until all four rolls are formed. Serve with ginger, wasabi, and soy sauce.
Information
Category

Main Dishes, Fish

Cuisine

Japanese

Yield

4 sushi rolls