Saltine Toffee
White Trash Toffee Is the Easiest Candy You'll Make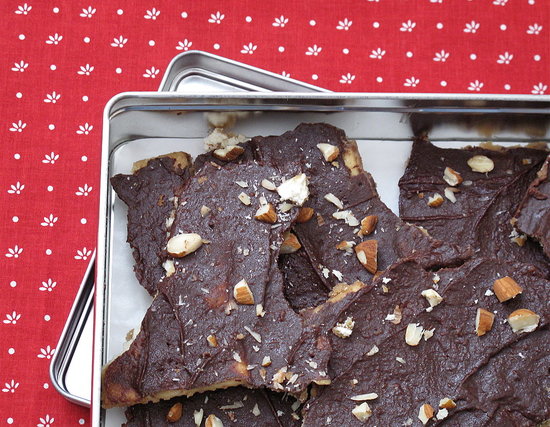 I first learned of white trash toffee, as it's called (no, I didn't make up the name!), many years ago when a former co-worker brought some in to the office and I couldn't stop putting it in my mouth. When I got my hands on the recipe, which came from her sister-in-law, I was shocked by how fast, easy, and inexpensive it is to put together — and I haven't stopped making it since.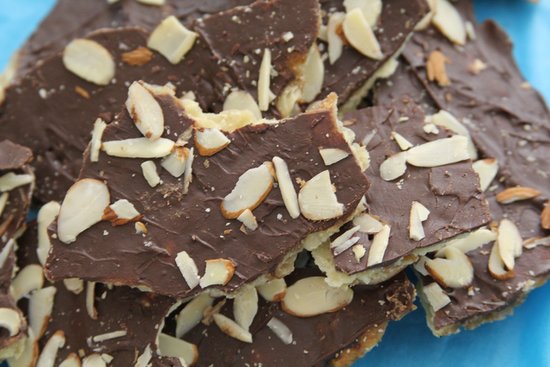 If you have 15 minutes and any manner of chocolate, sugar, nuts, and crisp white cracker on hand, then you are ready to make this addictive homemade gift. The trick is to work very quickly (be prepared for a little bit of a mess!) and keep your eyes peeled to the toffee as it comes together. Feel free to modify it using your favorite chocolate and toppings. Psyched to make the easiest holiday edible ever? Then see the recipe.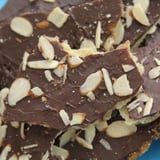 Ingredients
40 saltine crackers
1 cup light brown sugar, packed
1 cup unsalted butter
12 ounces semisweet chocolate chips
1/4 cup roasted almonds, roughly chopped
Directions
Preheat oven to 400ºF.
Place the saltines side by side on a large rimmed baking sheet.
In a medium-sized saucepan, bring the butter and sugar just to a boil and cook for about 3 minutes, until thicker, but not until it becomes caramel.
Pour butter and sugar mixture over saltines, and place in oven for 3 minutes, or until very bubbly.
Sprinkle chocolate chips all over the saltine mess, and place back in the oven for 1 minute.
Remove from the oven. Using an offset spatula, spread chocolate evenly over the saltines. Sprinkle lightly with chopped almonds.
Allow to cool. Place cookie sheet in freezer for about an hour to set. Once hardened, remove and break into rustic pieces.
Information
Category

Desserts, Candy

Cuisine

North American

Yield

Makes about a 16-inch-by-12-inch sheet of toffee, or 15 to 25 pieces of toffee

Total Time

14 minutes, 59 seconds
Image Source: POPSUGAR Photography / Susannah Chen