Scallop Salad, White Bean Puree, Herbs, Avocado Vinaigrette
Master the Art of Cooking Scallops With This Salad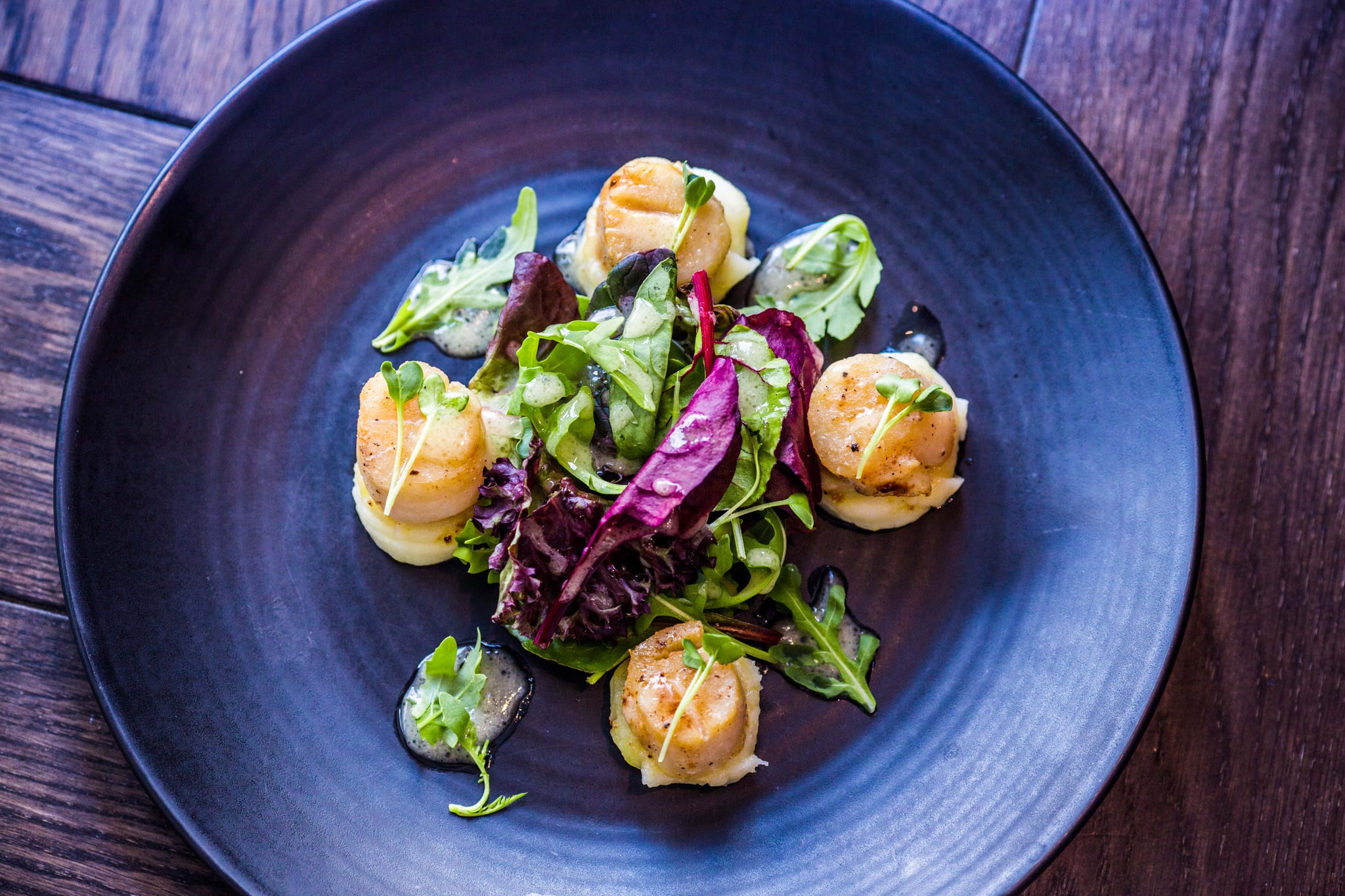 Mmm...this scallop salad (made with a white bean puree, fresh herbs, and avocado vinaigrette) isn't as easy as tossing a few ingredients together and adding a dressing but we promise it's worth the time spent in the kitchen. It's one you can cook over and over again to perfect cooking scallops just the way you like them.
Scallop Salad, White Bean Puree, Herbs, Avocado Vinaigrette
Vida Downtown
Ingredients
12 large scallops cleaned roe removed (use fresh scallops, if unavailable can use frozen but defrost in fridge overnight)
1 cup dried white beans (can use canned but will have a different taste)
1tbsp extra virgin olive oil
1tbsp cream
½ avocado
50ml olive oil (extra virgin)
15ml white vinegar (good quality preferred)
2tbsp fresh dill
2tbsp fresh parsley (flat leaf)
2tbsp fresh chervil
1tbsp coriander
1tbsp basil (shredded by hand)
1 small red onion
1tsp flour
2 cups corn oil (for frying)
Pinch salt
Pinch black pepper
1tsp vegetable oil
2tsp butter
Directions
Remove scallops from fridge and leave out for 20 minutes to come up to room temperature.
Dry the scallops on a paper towel than season with salt and pepper.
Heat up a not stick pan add small amount of vegetable oil (1 tsp) add the scallops to the pan. When starting to brown flip the scallops than add 2 tsp butter
In a bowl add dry white beans and cover with water (water should cover beans by 10cm) soak the beans overnight.
Remove the beans from the water and put in a pot and cover with fresh water cook for about 1 hour on medium heat until soft. Let the beans cool. When cool try to remove the skin and discard the skin. (if using canned beans remove the skin and discard).
Place the beans in a food processor. Add 1 tbsp olive oil and process till smooth. Remove and season with salt and pepper.
Just before serving heat up the white bean puree and add the cream. Do not boil the beans just gently warm.
Slice the red onion on a mandolin or knife. Try to get as thin as possible.
Place the corn oil in a pot on medium heat. Use a kitchen thermometer to check the temperature (140c). If you don't have a thermometer drop a piece of onion into the pot if the onion sinks and rises to the top with bubbles around you are good to go.
Pat dry the onions in a paper towel toss with the flour and remove extra flour. Fry in the oil till golden brown. Remove with a slotted spoon and place on a paper towel.
For the avocado dressing puree the avocado in a food processor and add the vinegar and oil.
To assemble the plate place a small dollop of white bean puree in the center of the plate and spread out in a circle. Place three scallop around the beans, put fresh herbs in the center and drizzle avocado dressing on top.
Information
Category

Appetizers

Yield

4

Total Time

1 hour, 14 minutes, 59 seconds
Image Source: Vida Downtown