Sesame Chicken Recipe
Better-Than-Take-Out Sesame Chicken
Although a traditionally Asian dish, sesame chicken has become a staple in our dine-in/take-out diets! Who doesn't love the crunchy exterior mixed with that amazing, sweet sesame glaze. And now you don't have to make a run to Panda Express or call in a delivery. You can make this delicious dish at home with this recipe.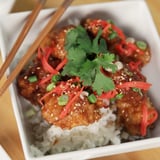 Ingredients
For the marinade:
1/2 cup soy sauce
1 cup chicken stock
1/4 cup honey
1/4 cup rice wine vinegar
3 tablespoons brown sugar, packed
2 tablespoons cornstarch
1 tablespoon sesame oil
1/2 cup water
1 1/2 pounds boneless, skinless chicken breast, cut into chunks
For the sesame chicken:
1 tablespoon sesame oil
2 garlic cloves, minced
1 tablespoon fresh ginger, grated
1 teaspoon chili paste
1 1/2 cups cornstarch
1/2 cup flour
1/2 teaspoon baking soda
3 egg whites, beaten
Canola oil, for frying
1 teaspoon sesame seeds, for garnish
1 bunch green onions, chopped for garnish
Red ginger, for garnish
Cilantro sprigs, for garnish
Directions
To make the marinade: Whisk together stock, soy sauce, honey, rice wine vinegar, brown sugar, cornstarch, sesame oil, and water in a large bowl.
In a separate large bowl, pour 6 tablespoons of the marinade over the chicken and marinate for at least 30 minutes. Reserve remaining marinade for later. Drain chicken, dry carefully, and discard the marinade in the bowl.
To make the chicken: Heat sesame oil in a medium saucepan over medium heat. Add garlic, ginger, chili paste, and cook, stirring frequently, until fragrant. About 1 to 2 minutes. Add 2 cups of the marinade and continue cooking for about 3 to 4 minutes, or until the sauce has slightly thickened.
In a large bowl combine cornstarch, flour, baking soda, and remaining marinade until it resembles a coarse meal.
Dip chicken first into the egg whites, and then dredge in the cornstarch flour mixture, pressing to coat.
Heat oil in a large heavy bottomed stock pot until it reaches approximately 350ºF or a pinch of flour thrown in starts to simmer and fry. Add chicken and fry until golden brown, approximately 2 to 3 minutes. Drain on paper towels.
Toss chicken in warmed sauce and serve immediately garnished with sesame seeds, green onions, red ginger, and cilantro sprigs.
Information
Category

Main Dishes

Yield

6 to 8 servings

Total Time

59 minutes, 59 seconds