Sesame Dessert Recipe, Cheval Blanc Randheli, Maldives
Whip Up This Sesame Dessert With Ingredients You Already Have in Your Pantry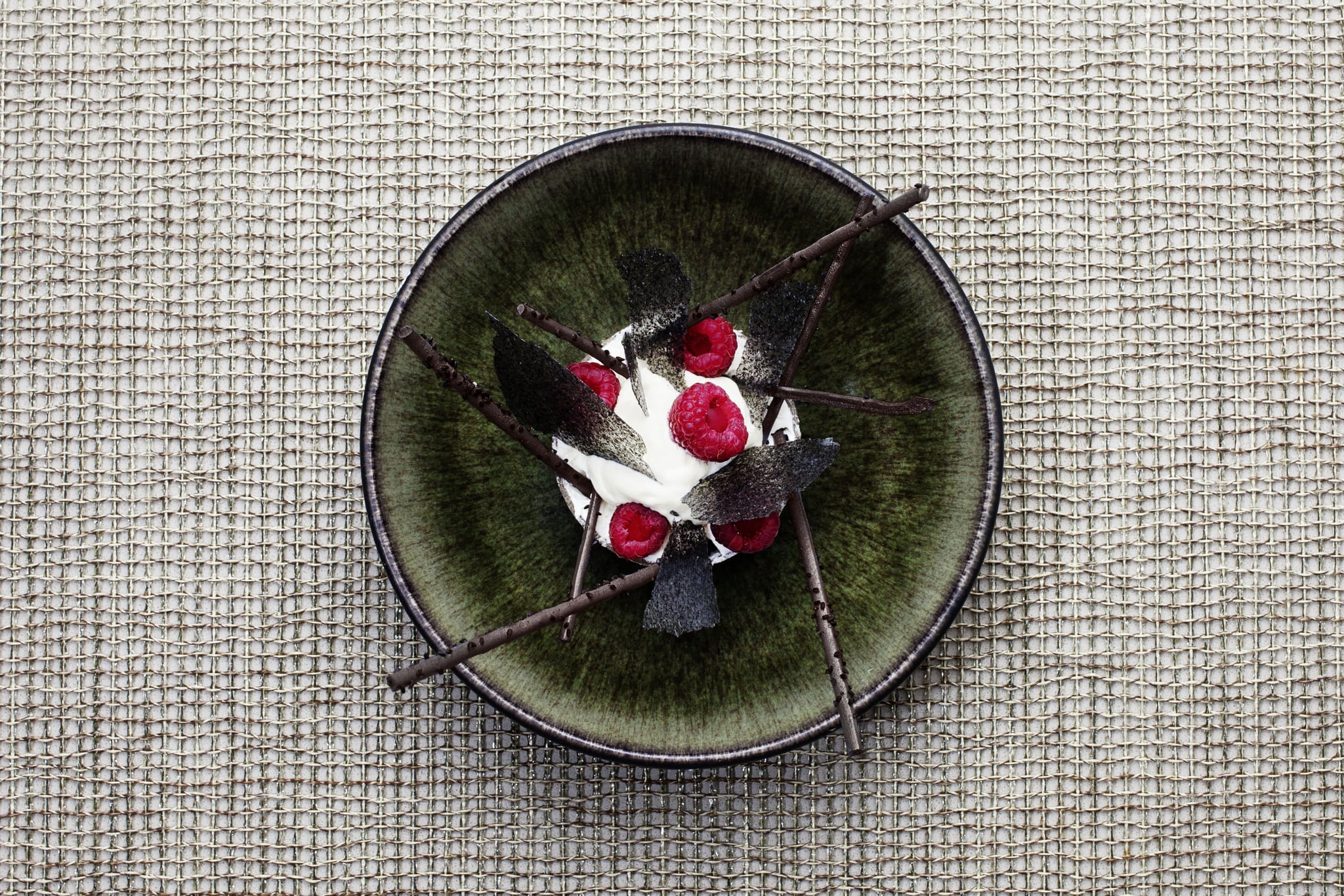 The Diptyque Restaurant in Cheval Blanc Randheli, the Maldives, sources ingredients not only from the property's garden but from local markets and suppliers scattered in no less than 25 different countries, from France to Thailand. Here's how to make Executive Chef Laurent Chancel's gorgeous Sesame Dessert.
Sesame Dessert
The Diptyque Restaurant
Ingredients
SESAME MERINGUE STICKS
Sugar: 100g
Egg Whites: 100g
Icing sugar: 100g
Black sesame seeds
SESAME SPONGE
Almond paste: 120g

Egg yolks: 220g

Black sesame paste: 120g
Sugar: 140g
Flour: 130g
Baking powder: 1g
Egg whites: 180g
Directions
SESAME MERINGUE STICKS
Whip egg whites until soft peaks.
Slowly add the sugar teaspoon by teaspoon and whip until stiff, shiny peaks form.
Place into piping bag and pipe small lines onto a baking sheet lined with baking paper.
Sprinkle with seeds and bake at 60°C for 3 hours.
SESAME SPONGE
Preheat oven to 170°C.
Whip almond paste, egg yolks, black sesame paste and half of sugar for five minutes until light, white and fluffy.
In a separate bowl, sift flour and baking power together.
In a third bowl, whip egg whites and rest of sugar until they form stiff peaks.
Fold the egg white mixture into the egg yolk mixture, being careful not the deflate the mixtures.
Sift the flour and baking powder over the egg mixture, folding until just combined – be careful not to over mix.
Pour onto silpat on a flat baking sheet. Bake for 8-10 minutes until springy to the touch.
Remove from oven and place immediately in cooler (this will ensure the sponge will remain elastic and moist so you can roll it).

Remove the sponge from the refrigerator.
Using a round cutter, cut the sponge and place in the centre of an attractive dish.
Top with sesame ice cream.
Using the prepared foam, dot around the cake and ice cream.
Garnish with seasonal fruit and sesame meringue sticks.
Information
Category

Desserts, Puddings/Mousse

Cuisine

Japanese

Yield

10

Total Time

1 hour, 59 minutes, 59 seconds