Slow-Cooker Carnitas Tacos with Pickled Onions
Notes
The pickled onions will keep, refrigerated, for a few weeks but are tastiest the first week.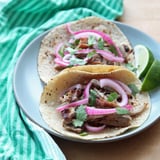 Ingredients
For the carnitas:
2 1/2 pounds bone-in pork shoulder (or 2 pounds boneless)
Kosher salt
2 teaspoons dried oregano
1 teaspoon ground cumin
1 tablespoon neutral oil, such as grapeseed
1 yellow or white onion, quartered
4 cloves garlic, peeled and smashed
1 jalapeño, stem removed and cut in half
The juice of 1 orange
The juice of 1 lime
For the quick-pickled onions:
1 medium red onion, sliced into 1/4-inch-thick half-moons
1/2 teaspoon granulated sugar
1 teaspoon kosher salt
3/4 cup rice vinegar, white wine vinegar, or apple cider vinegar
5 black peppercorns, optional
3 small springs thyme, optional
For the tacos:
Small corn tortillas, warmed
Chopped cilantro
1 lime, cut into 8 wedges
Directions
Liberally rub the pork shoulder with salt. Mix the oregano and the cumin with oil and rub all over pork.
Transfer the pork shoulder to a slow cooker, and add the onion, garlic, jalapeño, orange, and lime juice. Cover and cook on low for 8-10 hours or on high 4 hours.
Meanwhile, pickle the onions: bring 3 cups water to a boil and spread the sliced onion out in a strainer set in the sink. Slowly pour the boiling water over the onions to soften the onions and temper their bite.
Add the sugar, salt, and vinegar to a half-pint mason jar and shake until the sugar and salt dissolve. Add the onions, peppercorns, and thyme sprigs (if using). Refrigerate for at least 30 minutes (preferably a few hours) before using.
Once the meat is tender, remove from slow cooker and let cool slightly before pulling apart with a fork. Add back to the slow cooker, season to taste with salt (if needed), cover, and keep warm for 30 minutes. (Reserve the braised onions and garlic for adding to tacos or other uses. They're basically confited in pork fat!)
Preheat the oven to the broil setting. Spread the carnitas out on a rimmed sheet pan and broil until golden brown, about 3-4 minutes.
To assemble the tacos: Add to each tortilla carnitas and pickled red onions. Sprinkle with cilantro and serve with lime wedges.

Information
Category

Main Dishes, Pork

Cuisine

Mexican

Yield

Serves 4 to 6