Smores Cake | Food Video
Easy No-Bake S'mores Cake
This is an easy no-bake s'mores cake that is not only filled with a rich toasted marshmallow creme, layers of crunchy graham cracker, and mouth-watering chocolate fudge but also topped with a rich ganache and even more toasted marshmallow! One bite of this cake and you'll love the flavors of Summer all year long.
Brandi's wearing Tory Burch

No-Bake S'mores Cake
From Kevin Smith, POPSUGAR Food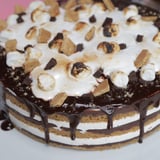 Ingredients
Nonstick cooking spray
For graham cracker layer:
3 cups graham cracker crumbs
1 cup butter, melted
For chocolate fudge layer:
3 cups chocolate chips
2 1/2 cups condensed milk
For marshmallow layer:
3 packets gelatin
3/4 cup warm water
3 (7-ounce) containers marshmallow fluff
For chocolate ganache:
3/4 cup heavy cream
1 cup chocolate chips
For garnish:
Marshmallow fluff
Mini marshmallows
Graham cracker crumbs & chunks
Chocolate chunks
Directions
Line a springform pan with parchment paper. Use a second piece of parchment paper and line the sides of the springform pan as well. Spray with nonstick cooking spray and set aside.
For graham cracker layer: In a bowl, mix together graham cracker crumbs and butter. Take about 1/3 of the mixture and spread it evenly in the bottom of the springform pan, pressing down gently to create an even layer.
For chocolate fudge layer: Then in another bowl, mix together chocolate chips and condensed milk. Microwave for 3 minutes in intervals until chocolate is melted. Stir until mixture is smooth and then pour about 1/3 of the fudge on top of the graham cracker layer.
For marshmallow layer: While the fudge is setting in a bowl, bloom 1 packet of gelatin in 1/4 cup of warm water until dissolved. Then mix gelatin mixture into 1 container of marshmallow fluff until smooth. Pour marshmallow mixture over the fudge and use a spatula to spread evenly.
Place the entire cake in the refrigerator for 5 minutes to set. Repeat the entire process 2 more times, being sure to refrigerate each marshmallow layer to set.
Refrigerate entire cake overnight to set.
For chocolate ganache: Heat heavy cream in microwave for 3 minutes or until simmering. Pour over chocolate chips and let sit for 2 minutes to melt the chocolate. Then stir to make the ganache. Let cool slightly until room temperature.
To assemble: Remove cake from the parchment paper cover and slide onto serving platter. Pour chocolate ganache over the top of the cake, letting excess drip down the sides. Garnish with marshmallow fluff, mini marshmallows, toasted graham cracker chunks, and chocolate chunks. Enjoy!
Information
Category

Desserts, Cake

Yield

Serves 10-12

Total Time

5 hours, 59 minutes, 59 seconds