Spicy Tuna Corn Dog
Give a Spicy Tuna Roll the State Fair (aka Deep-Fried) Treatment
Combine a sushi bar favorite (the spicy tuna roll) and a state fair staple (the corn dog), and you have this crazy mashup, the spicy tuna roll corn dog. While it may sound like a nibble that's out of left field, consider the tempura sushi roll; this is essentially its Americanized cousin. Watch the video to see the tricks to getting the Japanese-inflected batter just right and its outer shell piping hot while keeping the sushi center raw.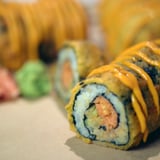 Ingredients
1 1/4 cups flour
3/4 cup cornmeal
1 teaspoon salt
1 tablespoon sugar
1 teaspoon baking powder
1 1/2 tablespoons furikake
1 teaspoon dried ginger
2 eggs
3/4 cup milk
2 tablespoons sriracha
3 uncut spicy tuna rolls
Vegetable, peanut, or canola oil for frying
Optional toppings:
Sriracha mayo, such as Lee Kum Kee
Chinese-style hot mustard
Wasabi paste
Pickled ginger
Directions
In a large bowl, whisk together the flour, cornmeal, salt, sugar, baking powder, furikake, and dried ginger.
In a second bowl, whisk together eggs, milk, and sriracha until combined. Pour wet mixture into the dry mixture, and continue whisking until a batter has formed.
Heat oil in a heavy-bottomed Dutch oven or electric deep fryer to 350°F.
Take an uncut spicy tuna roll and dip it in the batter, making sure to coat it evenly; brush off excess batter with a pastry brush. Using a pair of tongs, carefully place battered sushi roll into the oil and fry for about 90 seconds, or until the batter is just cooked but the sushi inside is still raw. Remove from the oil, and place on a paper-towel-lined plate to drain. When the roll is cool enough, insert a large wooden stick or a pair of chopsticks into the center of the roll.
Serve with sriracha mayo, hot mustard, wasabi, and/or pickled ginger.
Information
Category

Main Dishes

Yield

Serves 6