Supersize Cinnamon Roll
From Kevin Smith, POPSUGAR Food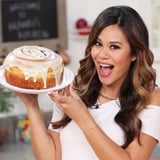 Ingredients
Dough
1 yeast packet
1 cup warm milk
3 tablespoons granulated sugar
1/4 cup butter, melted
1 teaspoon salt
1 egg
4 cups all-purpose flour
Filling
1 cup brown sugar
2 tablespoons cinnamon
1/4 cup butter, melted
Glaze
1/2 cup powdered sugar
2 tablespoons butter, room temp
2 ounces cream cheese, room temp
1/2 teaspoon vanilla extract
1/2 teaspoon lemon juice
1 tablespoon milk
Directions
To make dough:Stir yeast into a bowl with the warm milk and set aside.
In a large bowl, combine sugar, butter, salt, and the egg. Add half the flour and stir to combine. Pour in the milk/yeast mixture and combine. Continue adding flour a bit at a time until the dough is no longer sticky (use more or less flour, if necessary).
Knead for 5-10 minutes on a floured surface, sprinkling with extra flour if the dough becomes sticky. Form a ball and place the dough in a greased bowl. Cover with plastic wrap and allow to rise for 1-2 hours, until doubled in size.
In a small bowl, combine your brown sugar and cinnamon and set aside.
Once the dough has risen, punch it down and place onto a flat floured surface. Roll the dough into a very long strip roughly 2 inches wide and brush melted butter onto one side of the dough strip. Sprinkle the brown sugar and cinnamon mixture over the dough and roll the dough up into one big spiral.
Grease a round 8 inch baking pan and sprinkle the bottom with some remaining brown sugar mix. Place the cinnamon roll into the pan (it will not fully fill the pan), cover, and allow to rise for another 30-45 minutes.
Bake the cinnamon roll in an oven preheated to 325°F for 50-60 minutes, or until lightly browned on top.
To make the glaze: Combine the powdered sugar, butter, cream cheese, vanilla extract, lemon juice, and milk into a bowl and mix well with a hand mixer.
After the cinnamon roll has cooled a bit, cover it with the glaze and enjoy!
Information
Category

Pastries

Yield

1 giant cinnamon roll

Total Time

3 hours, 59 minutes, 59 seconds