Supersized Grilled Cheese
Supersized Grilled Cheese
From Kevin Smith, POPSUGAR Food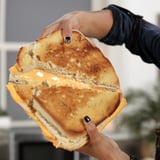 Ingredients
1 1/4-ounce package active dry yeast
2 cups warm water, 105ºF to 115ºF
3 tablespoons granulated sugar
1 tablespoon salt
1/4 cup butter, melted
6 1/2 cups all-purpose flour
20 slices American cheese
Butter for coating the griddle
Directions
Into a stand mixer fitted with a dough hook, add yeast and water. Let sit for 5 minutes or until the yeast has activated and started to bubble. Add sugar, salt, butter, and half of the flour and mix well, until incorporated. Add remaining flour 1 cup at a time until all incorporated.
Continue mixing the dough until smooth and elastic. Turn the dough out onto a floured cutting board and continue to knead for 5 minutes. Grease a large clean bowl with non-stick cooking spray and place the dough in the bowl, turning it once so the dough is coated. Cover with plastic wrap or a damp towel and let rise for 1 1/2 hours, or until it has doubled in size.
Grease a square baking pan and uncover dough. Punch the dough to deflate it and then place it on a lightly floured surface. Stretch the dough to fit roughly in the size of the baking pan and then place the dough inside, carefully stretching it as much as possible to fill the pan. Cover with a damp towel and allow to rise a second time for 30 to 45 minutes.
Preheat oven to 375ºF and uncover dough. Bake for 25 to 30 minutes, or until the dough is golden brown and hard on the outside. Remove the loaf from the pan and let cool.
Once the bread has cooled, very carefully slice off the top and bottom of the bread and then slice horizontally one more time to create 2 even slices of bread.
Butter a griddle and place over medium-high heat. Toast both slices of bread on one side. Then onto a quarter sheet tray place one piece of bread, toasted side down. Top with cheese and then cover with the second slice of bread, toasted side up. Bake for 8 to 10 minutes or until cheese is melted. Remove from oven, carefully slice and serve warm.
Information
Category

Sandwiches

Yield

Serves 4 to 6

Total Time

2 hours, 59 minutes, 59 seconds