Surprise-Inside French Toast
Surprise-Inside French Toast
From Megan Lutz, POPSUGAR Food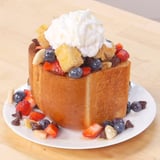 Ingredients
1/3 loaf of white bread, unsliced
3 tablespoons honey
2 tablespoons unsalted butter, melted
1/4 teaspoon cinnamon
5 strawberries
1/2 banana
1/2 cup blueberries
1/4 cup semisweet chocolate chips
Scoop of ice cream
Whipped cream, for garnish
Drizzle of honey, for garnish
Directions
Preheat oven to 350°F.
Slice the loaf of bread in half and cut out a large square chunk in the center, leaving the rest of the bread intact (like a square bread bowl). Slice the chunk you removed into cubes.
Mix honey, butter, and cinnamon together into a bowl and evenly coat the bread squares and the inside of the hollowed-out bread. Place on a baking sheet and bake for 10 minutes.
While the bread is baking, chop strawberries and bananas into small squares. Mix blueberries, chocolate chips, strawberries, and bananas into a bowl and set aside.
Remove the bread from the oven and let it cool for 1 minute. Fill the hollowed-out bread with the berry and chocolate mixture and the bread squares. Top it off with ice cream, whipped cream, and a drizzle of honey. Enjoy immediately!
Information
Category

French Toast

Yield

1 serving

Total Time

19 minutes, 59 seconds