Surprise-Inside Lucky Charms Cupcakes
Surprise-Inside Lucky Charms Cupcakes
From Megan Lutz, POPSUGAR Food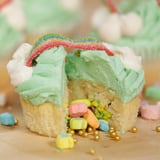 Ingredients
For cupcakes:
1 1/2 cups flour
1 1/2 teaspoons baking powder
1/2 teaspoon salt
2 large eggs
2/3 cup sugar
1 1/2 sticks unsalted butter, melted
2 teaspoons vanilla extract
1/2 cup milk
3/4 cup Lucky Charms Marshmallows
1/2 cup gold dragee balls
For frosting:
1 1/2 cups unsalted butter
3 cups powdered sugar, sifted
1-2 tablespoons heavy whipping cream
1 tablespoon vanilla extract
1/4 teaspoon salt
Green food coloring
Rainbow sour candy belts
Directions
To make cupcakes: Preheat oven to 350°F. Line a cupcake pan with a dozen cupcake liners.
Whisk together the flour, baking powder, and salt in a mixing bowl. In a separate bowl, beat together the eggs and sugar, adding in the butter and vanilla. Add the dry ingredients and milk in small additions, alternating between wet and dry until combined. Pour batter into cupcake liners, bake for 20 minutes, and let cool for 10 minutes.
Once the cupcakes have cooled, use a knife to cut out the center of each cupcake, about 1 inch deep. Trim down the bit of cake you removed and save just the top. Fill each cupcake with equal parts marshmallows and gold dragee balls, about 1 tablespoon of each. Cover the hole with the cake you saved from earlier.
To make the frosting: Mix butter and powdered sugar until combined. Add heavy whipping cream, vanilla, and salt and mix until smooth. Divide the frosting, leaving 1/3 white and folding in green food coloring into the other 2/3.
Pipe the green frosting onto the cupcakes. Top with half of a rainbow belt and two white buttercream clouds on either end. Enjoy!
Information
Category

Desserts, Cupcakes

Yield

24 cupcakes

Total Time

44 minutes, 59 seconds