Sweet Potato, Spinach, and Feta Frittata
Why Sweet Potato, Spinach, and Feta Frittata Is the Perfect Post-Workout Meal
This recipe is loaded with protein – essential for repairing muscle tissue after exercise – as well as iron. Iron is important for helping your blood carry oxygen from your lungs to your muscles. Spinach provides vitamin C, which helps your body absorb more iron from plant foods. The sweet potato adds carbohydrate to restock glycogen stores in your muscles, as well as beta-carotene.
Sweet Potato, Spinach, and Feta Frittata
Speedo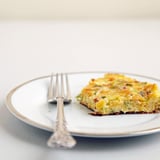 Ingredients
1 tbsp light olive or rapeseed oil
1 onion, finely chopped
2 small sweet potatoes (300g), peeled and cut into small chunks
1 garlic clove, crushed 125g baby spinach
8 cherry tomatoes, halved
4 eggs
Freshly ground black pepper
50g feta, crumbled
Directions
Heat the olive oil in a non-stick frying pan over a medium heat, add the
onions and fry for 4-5 minutes until softened. Add the sweet potato
and stir together.
Reduce the heat to low, cover and cook for 15
minutes until the potato is tender and cooked through. Add the garlic,
spinach and cherry tomatoes and continue to cook for 2 minutes until
the spinach has wilted down.
Beat the eggs in a large bowl and season with freshly ground black
pepper. Pour over the potato mixture and cook over a medium heat for
a few minutes until the frittata is almost set. Scatter over the feta.
Heat grill to medium. Place the pan under the grill for 2-3 minutes until
the top is golden and just set.
Leave for a few minutes. Run a knife around the edge and slide the
frittata on to a large plate. Serve either hot or cold in wedges with a
leafy salad.
Information
Category

Breakfast/Brunch

Total Time

24 minutes, 59 seconds
Nutrition
Calories per serving

442
Image Source: POPSUGAR Photography