Tips on Making Guacamole
How Your Favorite Chefs Make Guacamole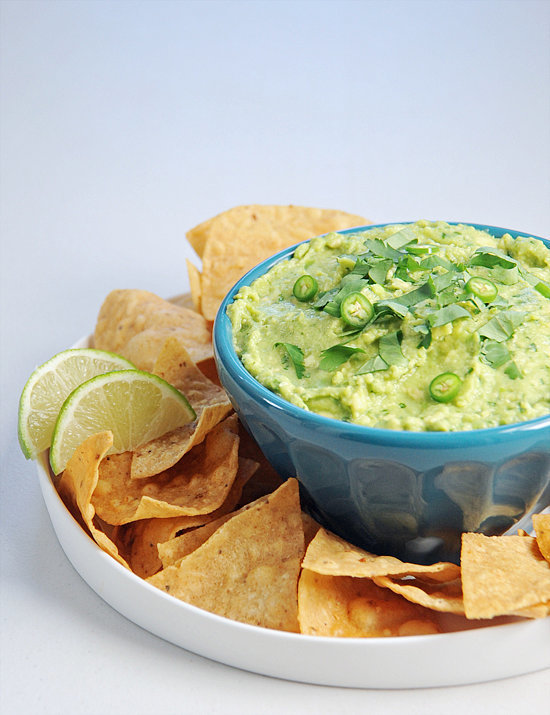 There are infinite ways to prepare guacamole, but chefs and our favorite food personalities know best. From the type of peppers to use to preparation technique, these tips will change your guacamole-making game forever.
Alton Brown: Let Marinate
Alton Brown's guacamole calls for mashing the ingredients together with a a potato masher, then letting the guac rest for 2 hours, we're assuming to let the flavors marinate.
Ree Drummond: Flavor With Pico de Gallo
The best guacamole shortcut is use pico de gallo! That's what's in The Pioneer Woman's recipe.
Bobby Flay

: Dice the Avocado in the Shell

Why waste your time mashing? Bobby Flay's twist on guacamole is dicing the avocado in the shell.
Tyler Florence: Opt for Serranos
The flavor secret to Tyler Florence's guacamole is serrano chiles.
Ina Garten: Use Hot Sauce, Not Jalapeños
Want to control the heat of your guac? Use hot sauce! "I feel really strongly about guacamole," Ina says in her guacamole video. Hot sauce also adds a dash of complex vinegar-y flavor to your dip. Also, Ina says that freshly-squeezed lemon juice is the only way to keep the guacamole from turning brown. She also runs her knife through the avocadoes to keep it super chunky.
Marcela Valladolid: Mash the Avocado First
Mash the avocado first with a fork before folding in all the other ingredients, to make Marcela Valladolid's simple guacamole. "Simple perfection," she says.
Gordon Ramsay

: Make It Creamier With Olive Oil

A drizzle of olive oil goes a long way in making the guacamole ultra creamy, according to Gordon Ramsay's guacamole recipe.
Chrissy Teigen: Fold in Shredded Cheddar Cheese
Though she adapted it from Alton Brown's recipe, Chrissy Teigen made it her own by adding shredded cheese to her guacamole. "'CHEESE? IN GUACAMOLE?' I Know. I know. I got many mixed reactions when I posted this recipe years ago, but only from those who hadn't tried it. The others became obsessed," she claims.
Image Source: POPSUGAR Photography / Nicole Perry