Top Chef's First Season in Arabic Airs With Dubai Scenes
Top Chef's First Arabic Season Has Begun and This Challenge in Dubai Looks Epic
MBC 1 delivered the first ever season of the global TV show Top Chef in Arabic on Wednesday night. Airing at 10.30pm UAE time it featured the introduction of contestants (13 men and women) and of course the trio of judges (celebrity Lebanese chef Maroun Chedid; Egyptian-Chinese internationally renowned chef, restaurateur and cookbook author Bobby Chinn; and Saudi chef Mona Mosly).
The first challenge took place on the Burj Al Arab's helipad - not good for anyone afraid of heights!
And many of Dubai's biggest landmarks featured prominently in the episode as one of the challenges took place at Jumeirah Emirates Towers plus we got to see the arrival of the contestants to their new homes for two months at Jumeirah Living World Trade Centre.
Every episode will feature a prominent Arab or international guest star with three contestants eventually making it to the final episode. It all began in 2006 in the United States but now Canada, Chile, El Salvador, Finland, France, Greece, Indonesia, Italy, Mexico, the Netherlands, Poland, Portugal, Romania, South Africa, Spain, Sweden and Vietnam have their own versions.
If you haven't watched it before, here's how it works…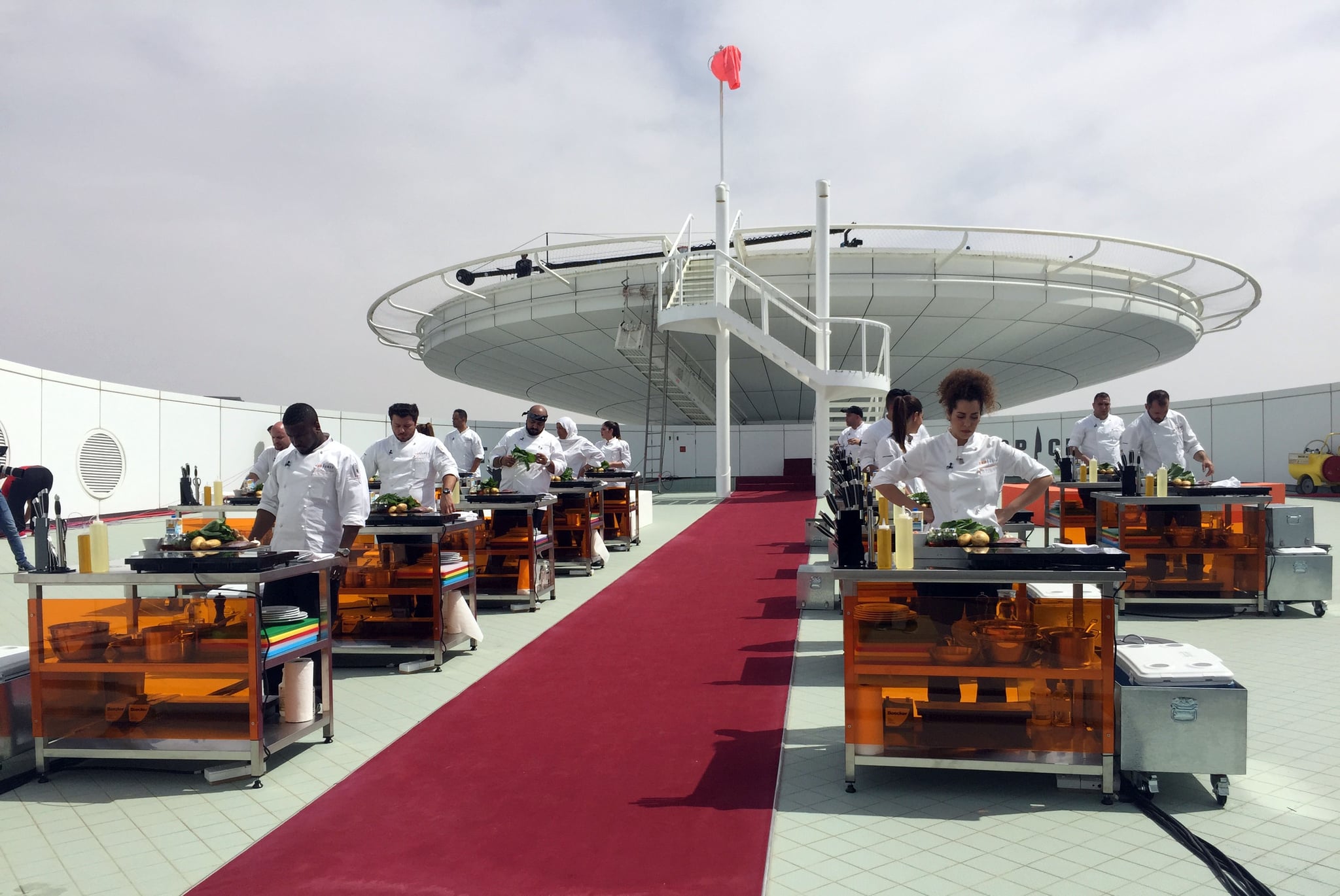 1. Quickfire Challenge: The show begins with the candidate chefs being required to prepare a dish that meets certain requirements (such as including specific ingredients, for example). Chefs who win this challenge are granted immunity from the next round, the Elimination Challenge.
2. Elimination Challenge: This more complex round sees the candidate chefs participate in a difficult culinary-related challenge, such as catering for a wedding, managing the opening of a restaurant, etc…
3. Judges' Table: Following the Elimination Challenge, the candidate chefs report to the Judges' Table, where one or more chefs are named the winners of the day, while one chef is eliminated.
See who the contestants are and where they're from below: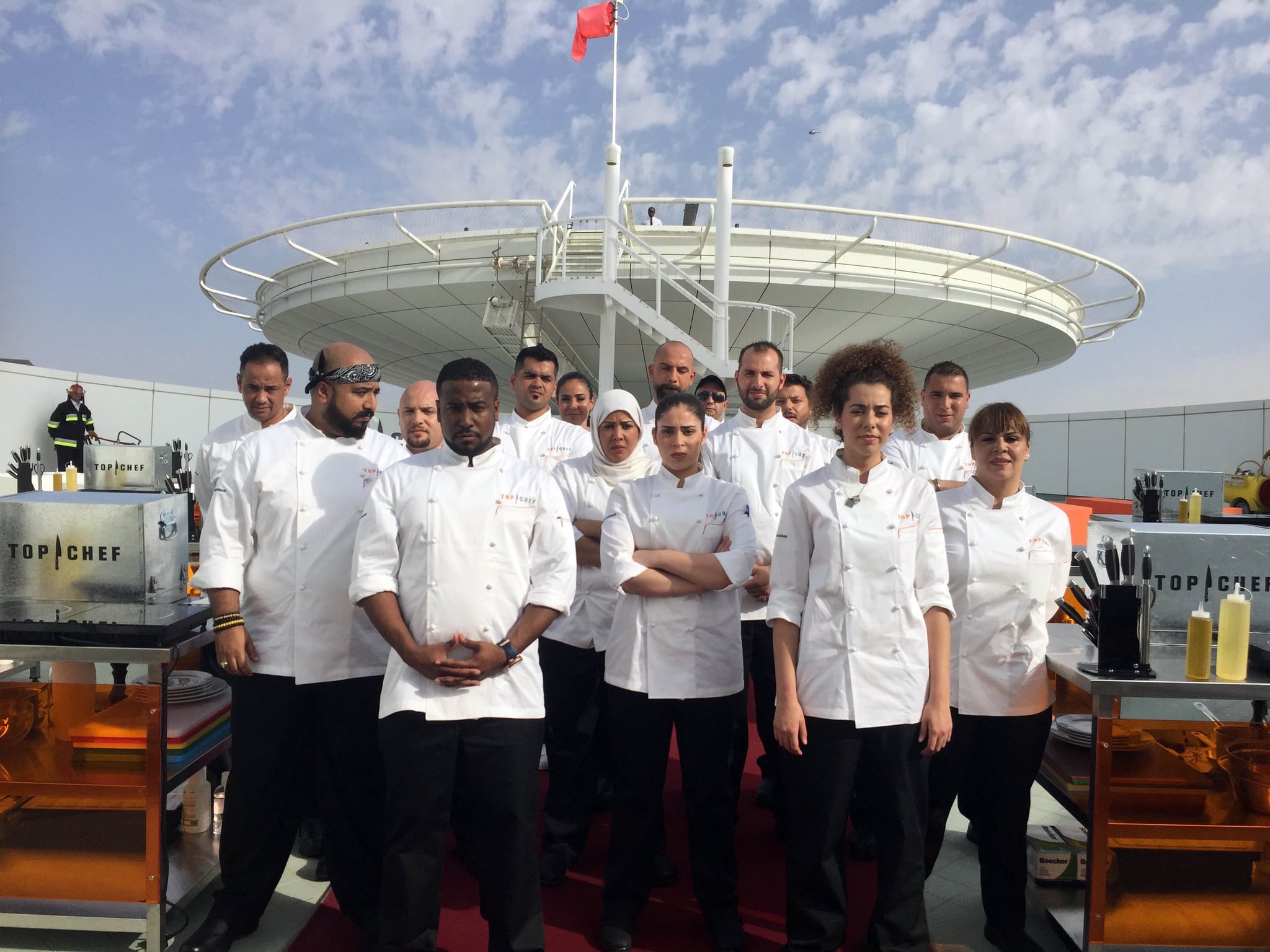 Jan Barbour, Lebanon – Executive Chef
Hisham Manyamna, Lebanon – Executive Chef
Roya Shihab, Lebanon – Student & Sous-chef
Rami Salloum, Syria – Executive Chef
Hala Ayash, Syria – Chef & Personal Trainer
Jumana Hassan, Palestine – Sous-chef
Abdullah Shaheen, Jordan – Chef
Youmna Kheder, Egypt – Chef
Abdel Fattah El-Sawi, Egypt – Executive Chef
Essam Jafari, Morocco – Executive Chef
Khalid Kahya, Morocco – Executive Chef and culinary teacher
Mustafa Al-Hayiki, Bahrain – Culinary teacher
Nader Al-Ayssari, Oman - Chef and restaurant/business owner
Adnan Yamani, Saudi Arabia – Executive Chef and Restaurateur
Khuloud Sohail, Saudi Arabia – Line cook