Tuna Musaamum
This Tuna Dish Brings Home a Piece of Your Maldivian Getaway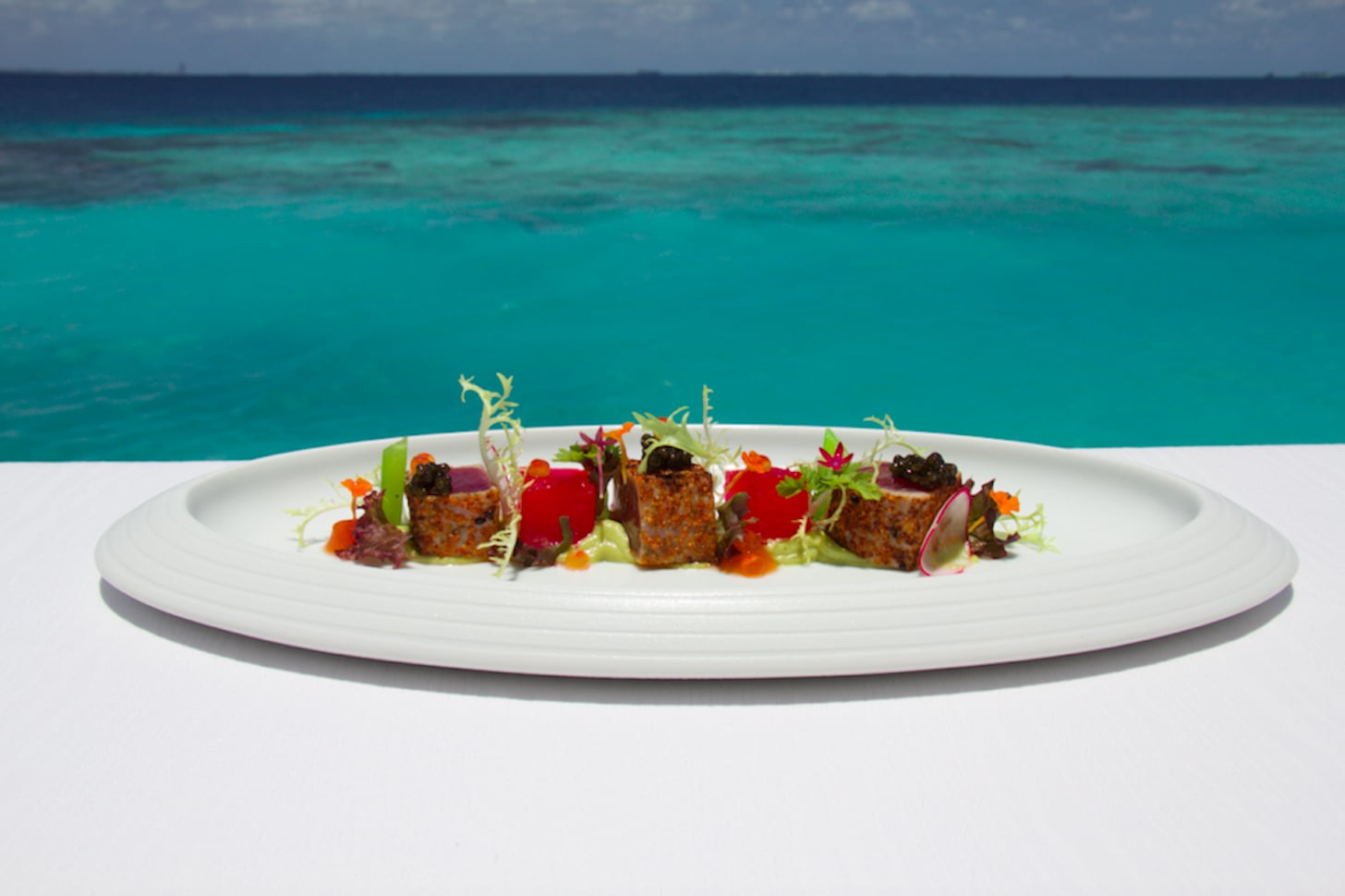 Tuna Musaamum is a Maldivian dish guaranteed to leave you reminiscing about your vacation to the Maldives. Follow instructions from the guys at Baros Maldives to recreate their popular recipe.

Tuna Musaamum
Baros Maldives
Ingredients
FOR TUNA MUSAAMUM (KANDUMAHU MUSAAMAA):
300g Tuna Fillets
4tsp Coriander seeds
2tsp Cumin seeds
2tsp Fennel seeds
1tsp Black peppercorns
5 Dried red chilis
2 Sticks Cinnamon
40g Ginger, peeled and sliced
2 Garlic cloves, peeled and crushed
½ tsp Turmeric powder
2 piece Pandan leaves
10 Curry leaves
10g Cashew nuts
10g Raisins
2 Large onions, finely sliced
3tsp Cooking oil
3tsp Ghee
60ml Water
1/2 cup Coconut milk
1tsp Salt
2tsp Sugar
FOR THE COCONUT AND CUMIN RICE:
250g Cooked basmati rice
15ml Coconut oil
1g Cumin powder
1tsp Mustard seeds
20g Dal (uncooked)
20g Roasted peanut
2 Dry red chilies
1 Green chili fine chopped
10 Curry leaves
40g Grated fresh coconut
Salt to taste
Directions
First, prepare the tuna. Cut the tuna into 2-inch pieces. Holding your cut cube of fish, run your
knife around the tuna so you are able to open it out. (If it is difficult, you can make three cuts on
the fish but not all the way through so you have 2 -3 pockets, like pages of a book). Set aside.
Prepare the curry paste by heating a clean, dry frying pan over medium heat, add coriander
seeds, cumin seeds, fennel seeds, dried chillies, ginger slices, garlic, cardamom seeds,
peppercorns, cinnamon and heat through till they release their aroma. Don't let the spices burn.
Remove, cool a little and pour into a blender or a wet grinder along with 1/4 cup of water,
turmeric and pinch of salt. Grind to a fine paste.
Leave about 2 tablespoons of the spice paste in the blender and remove the rest into a bowl.
Add 3 tbsp of ghee into the frying pan and fry 1/2 of your sliced onions till its starts to turn

golden. Add cashew nuts and raisins and fry till the raisins puff up. Remove onto kitchen paper
to drain any excess ghee. Stir this into the curry paste in the bowl. Mix well.

Take the tuna cubes and roll it up or open up the cut pockets and spread the curry paste in it.
Wrap it up with strips of pandan leaf or secure with a tooth pick. Set aside.
Heat 2 tbsp of oil in a large, preferably nonstick pot, and sauté the remaining onions and left
over pandan leaves and curry leaves till the onions go soft and start to colour. Switch off heat.
Arrange the curry paste stuffed tuna pieces on top of the onions, making sure that the fish is
in one single layer.
Add the coconut milk (or water if not using coconut milk) into the reserved curry paste left in
the blender along with 2 tbsp of water and pulse once. Tip the contents into the pan containing
the fish. Place it back on the stove over a low heat with the lid on. Give the pan a shake every 5
minutes, and gently turn the fish using two spoons. After 15- 20 minutes, taste the sauce and
season with salt and sugar. Place the lid back on and give a shake or two and cook another 5
minutes. The sauce should be thick and quite dry, the fish slightly caramelized on the edges.
Serve with plain cooked rice, a pilaf with a salad, or with flat bread.
FOR THE COCONUT AND CUMIN RICE:
Heat coconut oil in a pan. Add the cumin seeds. Add the dal and sauté for about a minute.
Then
add dry red chilies, curry leaves and chopped green chili. Stir and sauté then add grated
coconut. Stir very well.
Sauté the coconut for 2 to 3 minutes.
Add the steamed rice and salt. Stir
well.
Information
Category

Main Dishes

Yield

1

Total Time

59 minutes, 59 seconds