Turkish Restaurant Ruya Dubai's Cheese Fondue Recipe
Cheese Fondue Night Will Never Be the Same With This Turkish Twist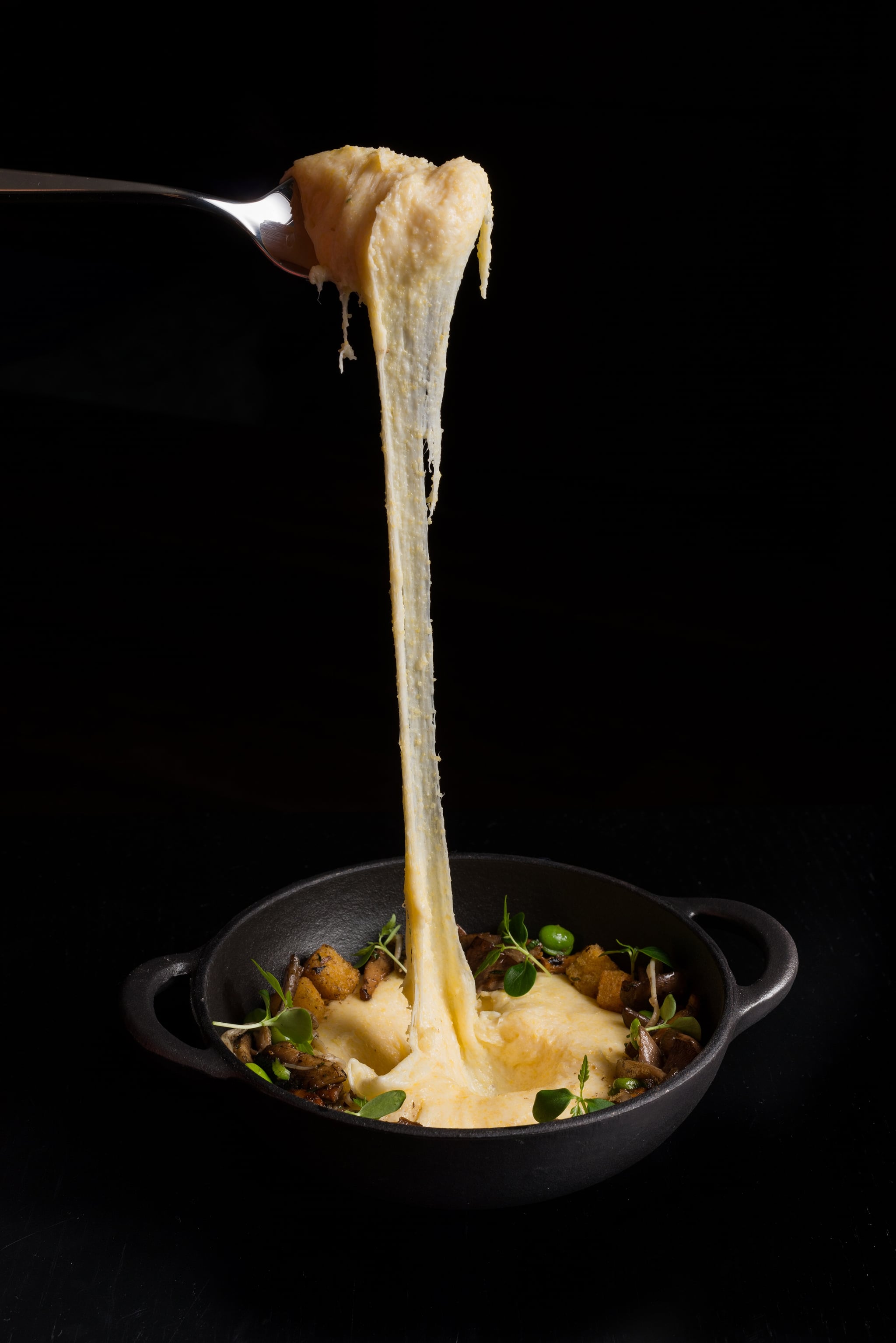 From the people behind Zuma, Coya and Nusret, there's something about this cheese fondue dish from Ruya Dubai that will guarantee your dinner party is a hit. It could be the cornbread, wild mushrooms, truffle (you decide!) but we guarantee it's the best one you'll ever try. Happy Turkey Republic Day for Saturday!
Turkish Cheese Fondue (Mihlama)
Ruya Dubai
Ingredients
400gr Cornbread, cubed
120gr Unsalted Butter, divided
60gr Cornmeal
400ml Water
400gr Kashkaval Cheese, grated
400gr Mozzarella (such as Massachusettes Fiore di Nonna Mozzarella) (about 1 large ball)
100gr Feta, crumbled
FOR THE MUSHROOMS:
200gr Enoki
100gr Portabello
125gr Girolles
175gr Oyster Mushroom
200gr Pied de Blue
680gr Broad beans, skinned
75gr Truffle Butter, Italtouch
40gr Truffle Puree, Italtouch
100gr Shallots, finely chopped
20gr Garlic, microplane
Lemon Juice, to taste
30gr Flat Leaf Parsley
Maldon Sea Salt & Black Pepper to taste
Assorted Cresses
Directions
Heat oven to 350F degrees. Spread cornbread cubes on baking sheet and toast about 12 minutes or until just browned.
Meanwhile, melt the butter in skillet. Stir in cornmeal to coat.
Cook over medium-low heat, stirring constantly about six minutes or until cornmeal starts to brown.
Reduce heat to low and continue toasting cornmeal until golden and aromatic.
Whisk in water until mixture is smooth.
Whisk in grated kasseri or kashkaval cheese, mozzarella and feta until mixture resembles fondue. Keep mixture warm over low heat. You are really trying to achieve the cheese catching on the bottom and getting crusty, not burnt.
For the sautéed mushrooms; Clean and prepare all the mushrooms, keep separate.
Finely chop the shallots and garlic, keep separate then sauté off the mushrooms separately.
In a pan heat the truffle butter, sauté garlic and shallots then add the mushrooms and broad beans.
Add the truffle paste and heat until hot, season.
Spoon thee sautéed mushrooms around the outside of the Muhlama, garnish with the cornbread croutons and picked herbs.
Information
Category

Desserts, Cheese

Cuisine

Other

Yield

10
Image Source: Ruya Dubai