Tyler Florence's Spicy Chicken Tortilla Soup Recipe
Soup's On: Spicy Broth With Chicken and Avocado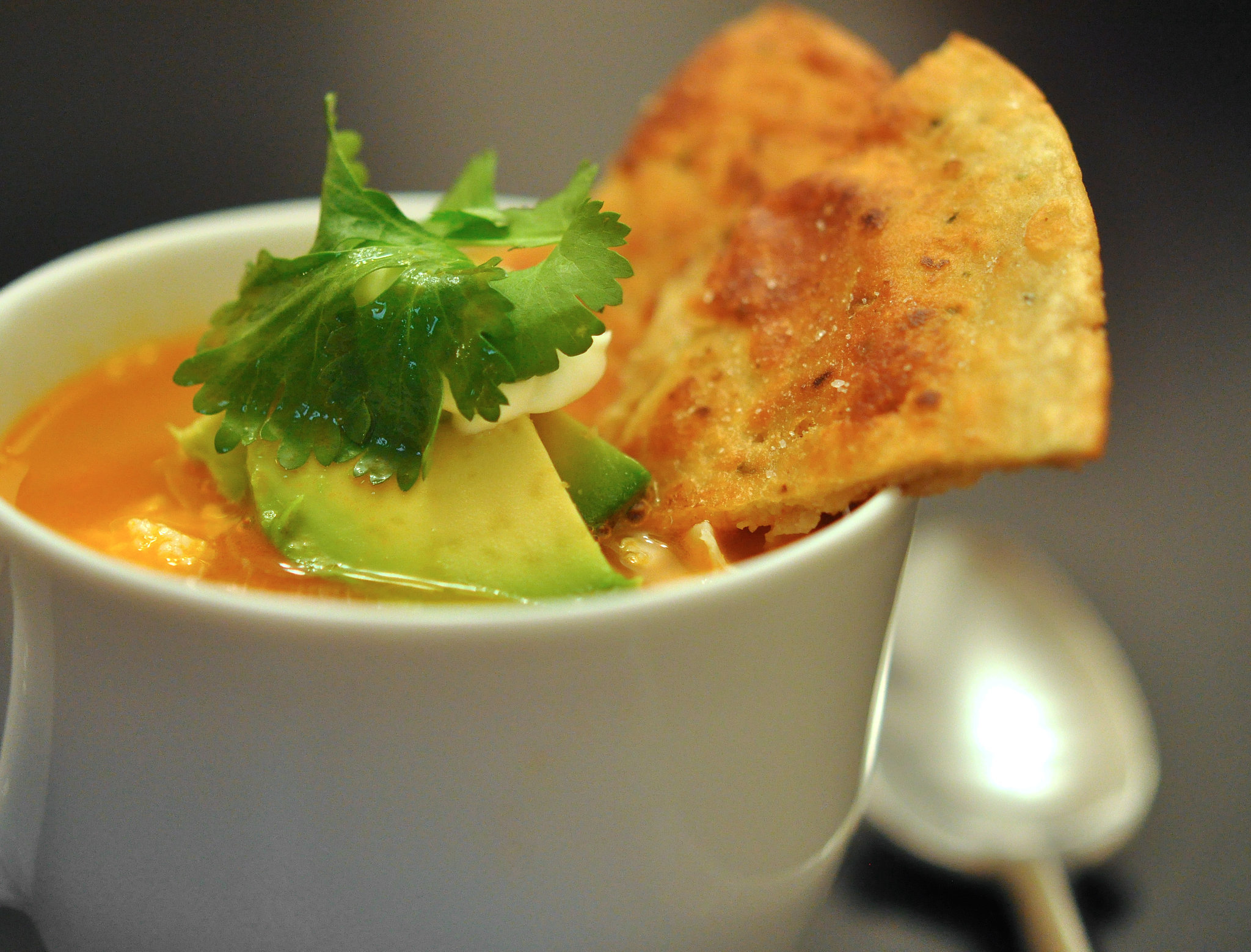 After making a simple yet delicious roast chicken, I had a ton of leftovers. Rather than just eat chicken salad for a couple days, I perused my cookbooks for something new to try. While looking through Tyler Florence's Eat This Book: Cooking With Global Fresh Flavors, I found the perfect recipe for a spicy chicken broth. It's served over cooked shredded chicken and accompanied by sliced avocado, just-fried tortillas, and cilantro. The broth is pretty spicy, so if you need to cut the heat, add a dollop of sour cream or crème fraiche. This exceptionally fresh-flavored soup is easy to throw together for a cool Autumn night. Ready to heat up your kitchen? Keep reading for the recipe.

Ingredients
Extra virgin olive oil
2 medium onions, diced
3 garlic cloves, minced
3 medium-size ripe tomatoes, chopped
2 jalapeños, minced
1 quart chicken stock, homemade or store bought
kosher salt and freshly ground black pepper
canola oil, for frying
4 corn tortillas, cut into 1/8 inch wide strips
1 1/2 cups shredded cooked chicken
3 avocados, halved, pitted, peeled, and diced
1/2 cup coarsely chopped fresh cilantro
1 lime, cut in wedges
4 dollops of sour cream or crème fraiche (optional)
Directions
Put a stockpot over medium heat and coat with a 2 count of olive oil. Add the onions, garlic, tomatoes, and jalapeños and cook for 15 minutes or until the vegetables get pulpy. Pour in the stock, season with salt and pepper and simmer for 20 to 25 minutes.
Meanwhile, heat 1 inch of canola oil in a skillet over medium-high heat. When the oil begins to smoke, add the tortilla strips in batches and fry until they are crisp on all sides. Remove with a slotted spoons to a paper towel-lined platter and sprinkle with salt while they are hot.
Divide the shredded chicken among 4 soup bowls. Ladle the hot soup over the meat. Top with diced avocado and fried tortilla strips. Garnish with cilantro and lime wedges.
Serves 4.
Information
Category

Soups/Stews, Stock/Broth

Cuisine

Mexican
Do you have any great leftover chicken recipes? Share them with the YumSugar Community, and we might even feature your recipe.