The Ultimate Breakfast Slider
The Ultimate Breakfast Slider
From Nicole Iizuka, POPSUGAR Food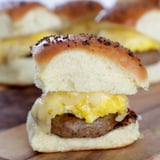 Ingredients
6 dinner rolls
1 tablespoon maple syrup
1 tablespoon grainy mustard
6 eggs, scrambled
6 cooked sausage patties
6 slices pepper jack cheese
1 tablespoon butter
1 teaspoon Worcestershire sauce
1/2 teaspoon onion powder
1/2 teaspoon poppy seeds
Directions
Preheat oven to 350ºF. Line baking sheet with aluminum foil.
Cut dinner rolls in half and place the bottoms onto the baking sheet. Mix together maple syrup and grainy mustard and spread onto the bottom dinner roll. Spoon scrambled eggs over the dinner rolls and top with a cooked sausage patty, a slice of pepper jack cheese, and the top of the roll.
In a small microwave safe bowl, melt butter for 15 seconds. Add Worcestershire sauce, onion powder, and poppy seeds and brush mixture onto the tops of all of the rolls. Place sliders into the oven for 10 to 15 minutes, or until warm. Serve immediately.
Information
Category

Breakfast/Brunch, Eggs

Yield

6 sandwiches

Total Time

19 minutes, 59 seconds