Unicorn-Poop-Inspired Meringues
Unicorn-Poop-Inspired Meringues
From Yazmin Alishav, POPSUGAR Food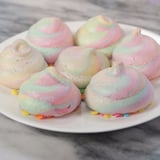 Ingredients
4 egg whites
1/4 teaspoon cream of tartar
1 cup sugar
6 tablespoons sprinkles
Food coloring
Directions
Preheat oven to 300°F.
In a bowl, add egg whites and whisk with hand mixer until stiff peaks form. Add in cream of tartar while the mixer is still on and slowly add the sugar. Keeping mixing until the meringue is nice and glossy.
Separate mixture into 3 equal parts and gently fold in desired food coloring for each. Be careful to not overmix.
Carefully put the meringue mixture into piping bag, one color at a time. Test out on a separate sheet of parchment to make sure all 3 colors come out at once.
Spread a layer of sprinkles on top of a parchment-lined baking sheet. Pipe the cookies on top of the baking sheet in the shape of a coil, going in a circular motion upward.
Bake for 25 minutes, and then shut off the oven and let the meringues sit with the door closed for 50 more minutes. Remove from the oven and enjoy!
Information
Category

Desserts

Yield

24 meringues