Veal Shank Tortellini Recipe Cheval Blanc Randheli, Maldives
This Meaty Pasta Dish Brings Mediterranean Vibes to Your Summer Lunch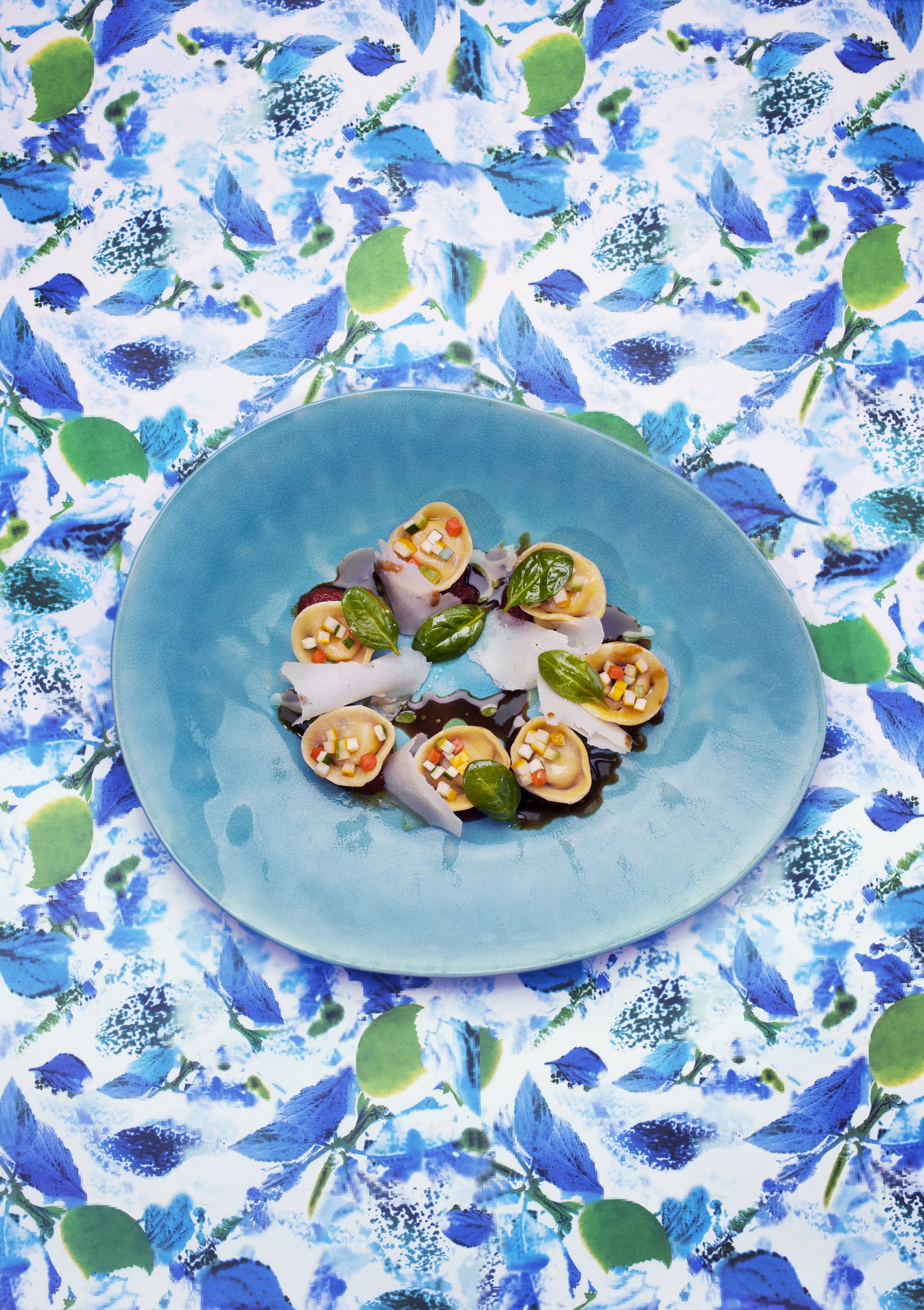 This pasta dish goes great as part of a Mediterranean-style lunch, which is exactly why The Deelani Restaurant at Cheval Blanc Randheli in the Maldives has it on their menu. Executive Chef Laurent Chancel shares the recipe for his delicious Veal Shank Tortellini.
Veal Shank Tortellini
The Deelani
Ingredients
PASTA DOUGH
200 g flour
4 eggs yolks
VEAL SHANK
1200g veal shank
100g onions
100g carrot
50g leeks
50g celery
350ml red wine
1500ml chicken stock
Directions
PASTA DOUGH
Mix all dough ingredients together, wrap in cling film and rest for at least 1 hour – ideally over night.
VEAL SHANK
Sear the veal shank in a heavy bottomed pan until a rich brown color. Set aside.
Wash and dice all vegetables to make a mirepoix.
Sautée the mirepoix in olive oil until softened, add the tomato paste and continue to cook – stirring constantly – until the mixture has caramelized in to a rich brown color.
Deglaze the mirepoix with red wine and reduce for 5 minutes at a rolling boil on medium heat.
Add the chicken stock and browned veal shank. Cover with a tight fitting lid and cook on low heat until the meat falls off the bone, about 3-4 hours.
Remove the shank, reserving the jus, and shred the meat with fingers or a fork.
Add seasoning to taste and a touch of jus for moisture.
MAKING THE TORTELLINI
Using a pasta machine, roll the dough through various stages until it becomes as thin as a wonton wrapper.
Cut sheets into 3⁄4 meter long strips.
Working with two strips, brush one with water. On the other strip, place teaspoonfuls of veal in consecutive lines a few inches apart.
Place the water-brushed strip (water side down) onto the filled strip.
Press around each mound of veal to make a tight, airless seal.
Using a round cutter, cut circles around each mound to form a ravioli.
You may pinch one end to make a tortellini shape.
TOMATO SAUCE REDUCTION
Reduce a tomato sauce on low-medium heat until thickened.
PREPARATION
Cut a brunoise of carrots and zucchini, blanch for 15 seconds in boiling salted water.
Boil the pasta for 2-3 minutes in the same salted water.
On the plate, make seven mounds of the tomato sauce reduction, place one ravioli on each mound.
Drizzle with veal jus, top with diced vegetables and garnish with fried spinach leaves and shavings of parmesan.
Information
Category

Pasta, Main Dishes

Cuisine

Italian

Yield

4

Total Time

1 hour, 29 minutes, 59 seconds