Vegetarian Frittata Recipe
The Basics: Vegetarian Frittata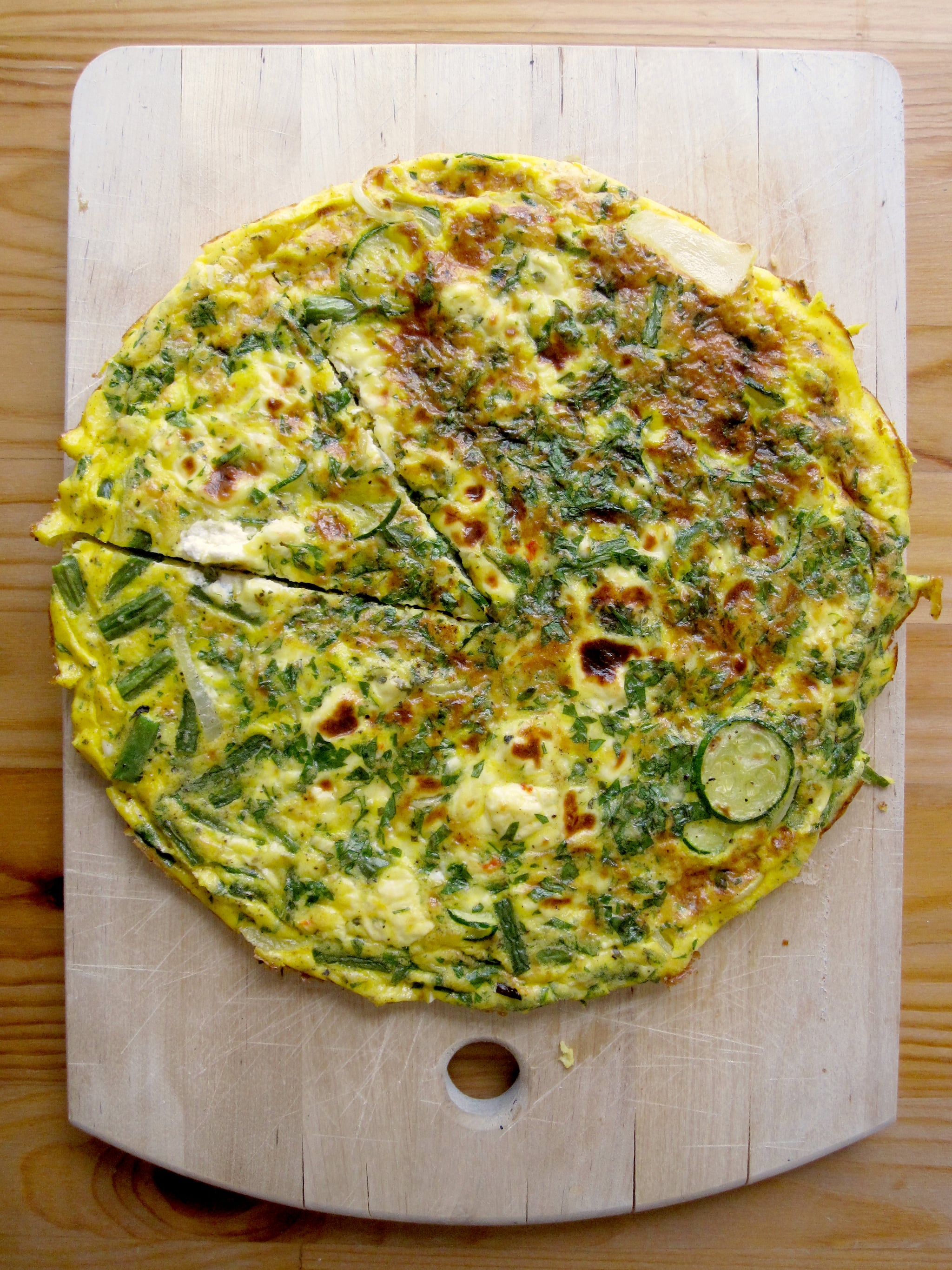 Although it may seem like an intermediate dish, there's a fool-proof technique to making a perfect frittata, and every beginning home cook should master it. A frittata is basically a crust-less quiche; it's an egg-based dish that can be filled with any vegetables, meats, or cheese.
The veggies are cooked before an egg mixture is added to the pan. The key is to use a saute pan that is oven safe. Once the frittata is set, stick the whole thing in the oven for it to finish cooking, then brown the top under the broiler.
This way you avoid having to flip the frittata — a step that's resulted in an eggy mess all over my floor more than once. To get the uncomplicated method to this adaptable dish, which can be enjoyed for breakfast, lunch, or dinner, keep reading.
Vegetarian Frittata
From Katie Sweeney
Ingredients
2 tablespoons olive oil
1 1/2 cups chopped vegetables (for the frittata seen here, I used 1/2 onion sliced, 2 garlic cloves minced, 1 zucchini thinly sliced, and 1/2 cup chopped green beans)
6 large eggs
1/4 cup milk or cream
1/2 cup grated or crumbled cheese (for the frittata seen here, I used 1/4 cup crumbled goat cheese and 1/4 cup finely grated parmesan cheese)
2 tablespoons finely minced fresh herbs (I used fresh parsley)
Salt and freshly ground black pepper
Directions
Preheat the oven to 350°F.
In a large oven-proof, nonstick saute pan, heat the oil over medium heat. Add the vegetables and saute until caramelized and tender, 12-15 minutes.
Meanwhile, whisk the eggs in a large bowl with the milk or cream until frothy. Whisk in the cheese, herbs, and generously season with salt and pepper.
Spread the vegetables in an even layer in the saute pan. Carefully pour in the egg mixture, making sure to cover all of the vegetables. Let cook, uncovered and untouched for 4-6 minutes until the egg on the bottom has started to set. The top will still be runny.
Transfer the pan to the oven and cook for 5-8 more minutes until the top is set and cooked through.
Transfer the pan to the broiler and broil for a minute until the top is golden brown. Place on a counter and let sit for 5 minutes. Slice into wedges and enjoy!
Serves 4-6.
Information
Category

Breakfast/Brunch, Eggs

Cuisine

Italian