Volcano Pizza | Food Video
Transform Your Pizza Into an Epic Dip Bowl
So you've come to a difficult crossroad in your life . . . You're gearing up for game day and you want to make an appetizer that will be a total crowd-pleaser, BUT you just can't decide between the classics: hot wings or pizza. Well (drumroll please), this year you don't have to pick! We've created the volcano buffalo chicken pizza and it's going to be a game-changer on your next game day.

Volcano Buffalo Chicken Pizza
From Nicole Iizuka, POPSUGAR Food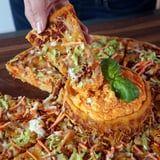 Ingredients
Special equipment:
Large circular baking sheet
Oven-safe ramekin
For the pizza:
2 pounds pizza dough
2 teaspoons olive oil
6 ounces tomato paste
3/4 cup Frank's red hot wing sauce
3/4 cup blue cheese crumbles, divided
1/4 cup basil, chiffonade
1 cup shredded mozzarella
1 cup shredded 4-cheese blend
1/2 cup diced chicken
1/4 cup red onion, medium dice
For the buffalo chicken dip:
4 ounces cream cheese
1/2 cup Frank's red hot wing sauce
1/2 cup ranch dressing
1 cup shredded chicken
1/2 cup shredded cheddar cheese
To garnish:
1/4 cup shredded carrots
1/4 cup shredded celery
2 tablespoons ranch dressing
Basil sprigs, to garnish
Directions
To make pizza: Let pizza dough rest for 30 minutes before starting. Preheat oven to 425ºF. Line a baking sheet with foil.
Shape pizza dough into a large circle. Place ramekin in the center of the baking sheet and lay the dough on top of the ramekin, molding the center of the dough into the ramekin. Pierce the dough with a fork a few times to let air pockets escape while cooking. Brush dough evenly with olive oil.
In a sauce pot, mix together tomato paste, wing sauce, and 1/2 cup blue cheese until combined. Heat through and add basil. Remove from heat and spread generously on the pizza dough, working up the sides of the ramekin, but not in the center of the dough. Top dough with cheese, chicken, red onions, and 1/4 cup blue cheese.
Bake for 15 to 20 minutes, or until the dough is golden brown.
To make buffalo chicken dip: While the pizza is cooking, in a medium sized sauce pot, heat together cream cheese, wing sauce, ranch dressing, shredded chicken, and cheddar cheese, until smooth and warm.
When the pizza is done cooking, remove from the oven and fill the pocket in the middle with buffalo chicken dip. Garnish with carrots, celery, and a drizzle of ranch dressing. Garnish the dip with a few sprigs of basil, slice and serve.
Information
Category

Pizza

Yield

Serving Size: 4 to 6

Total Time

59 minutes, 59 seconds