Wagyu Beef With Black Truffle Recipe, Cheval Blanc Randheli
Truffle Fans Will Go Crazy For This Wagyu Beef Appetizer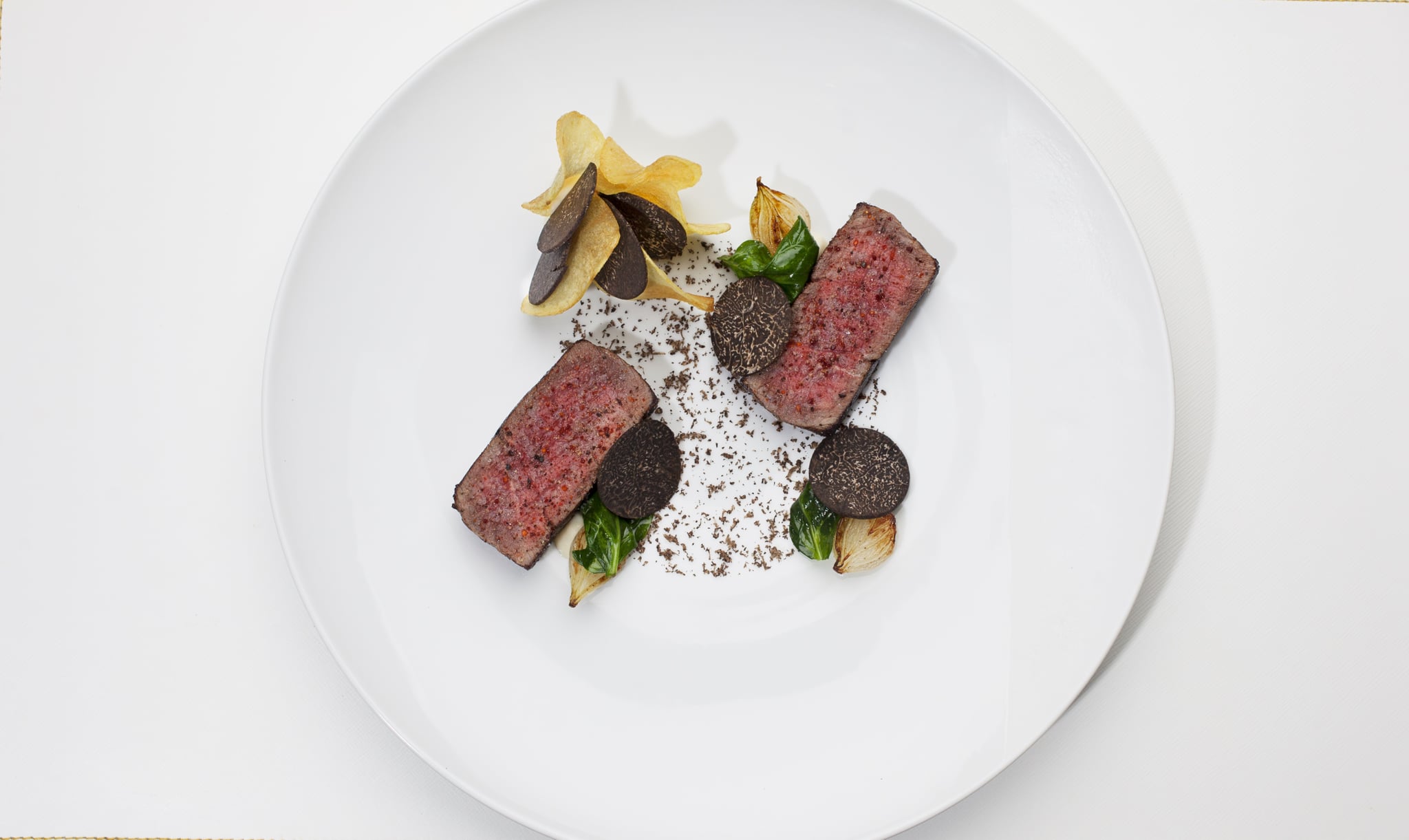 If you can't get enough of truffle in your food, this light appetizer is exactly the recipe you'll want to practice for your posh dinner parties.
Le 1947 restaurant in Cheval Blanc Randheli, the Maldives, sources ingredients not only from the property's garden but from local markets and suppliers scattered in no less than 25 different countries, from France to Thailand. Here's how to make Executive Chef Laurent Chancel's delicious Wagyu Beef with Black Truffle.
Wagyu Beef with Black Truffle
Le 1947
Ingredients
20g Wagyu tenderloin
200g rate potato

60g black truffle

160g baby onions
100ml chicken stock
120g fresh spinach
Freshly ground pepper
120ml corn oil

Fleur de sel
Directions
POTATO CRISPS
Peel potatoes and slice thin using a mandolin, store in cold water to prevent oxidation.
Heat corn oil over medium heat.
Working in batches, pat potato slices dry and fry until crisp. Remove from oil and place onto kitchen roll to remove excess oil. Salt immediately and reserve.
BABY ONIONS
Peel and clean the baby onions. Place baby onions in a vacuum sealable bag with chicken stock, vacuum and seal under pressure.
Cook in a sous vide bath at 90 degrees for 1 hour.
Remove from bag and slice in half. Before serving, fry cut-side down in corn oil until golden brown.
Season with salt and pepper.
PRESENTATION
Heat a non-stick pan with oil over medium-high heat.
Season beef generously with salt and pepper.
When the oil is shimmering, place the meat in the pan and cook for 5 minutes – flip and cook another 4 minutes. (Wagyu beef should be served rare).
Baste with butter in the last four minutes of cooking. Let the beef rest of at least 15 minutes.
To serve, slice beef in half and place attractively on plate.
Cover with slices of black truffle as well as finely chopped truffle 'dust'.
Garnish with fried spinach leaves and potato crisps.
Serve alone or with sauce of your choosing.
Information
Category

Appetizers, Meats

Yield

4

Total Time

44 minutes, 59 seconds