White Chocolate Macaroni and Cheese Recipe
Crack Mac (aka White Chocolate Mac 'n' Cheese)
Putting white chocolate in mac 'n' cheese certainly may seem odd, even unpalatable, but don't knock it till you try it! One bite, and your initial skepticism will evaporate. With its rich, creamy, and complex flavor, this lush pasta dish is so irresistible, you'll wonder why you haven't tried this idea sooner.
Brandi Wardrobe Credits: Joie Top
White Chocolate Mac 'n' Cheese
From Brandi Milloy, POPSUGAR Food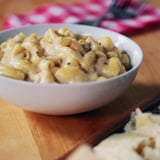 Ingredients
Salt
1/2 pound large elbow macaroni
2 cups milk
1 cup half-and-half
1/4 teaspoon freshly grated nutmeg
1 teaspoon freshly cracked black pepper
1 cup white chocolate chips
6 tablespoons butter
2 tablespoons sage leaves, chopped
1/4 cup all-purpose flour
1/2 pound brie
1/2 pound white sharp cheddar cheese
1/4 cup parmesan cheese, shaved
Directions
In a large stockpot, bring generously salted water to a boil. Add the pasta, and cook until it's al dente, about 5-7 minutes. Strain and rinse with cold water to stop the cooking process. Wipe stockpot clean.
In a small saucepan, heat milk, half-and-half, nutmeg, and pepper over low heat until small bubbles begin to form, about 7-10 minutes. Add white chocolate chips, and stir until melted. Turn off the flame, but keep the pan on the stove for later use.
Meanwhile, in another small saucepan over medium heat, melt 2 tablespoons of butter. When it starts to foam, add sage and cook until sage is crisp and the butter begins to turn golden brown. Turn off the flame, but keep the pan on the stove for later use.
In the stockpot, melt the remaining 4 tablespoons of butter over low heat. Add flour, and whisk constantly for 2 minutes, until a smooth paste forms. Slowly stir in the milk mixture in 1/4 cup increments. Be careful, as it will bubble. Stir with each addition of milk, so no clumps form in the sauce. Continue to stir and cook for 1-2 minutes more, until it thickens and is smooth. Add the brie and cheddar, and whisk until the cheese melts completely into the sauce. Stir in the sage browned butter and 1 teaspoon salt. Add the pasta, and continue cooking until mixture is heated through and simmering.
Garnish with shaved parmesan.
Information
Yield

Serve 4-6