Whole Buffalo Chicken
From Nicole Iizuka, POPSUGAR Food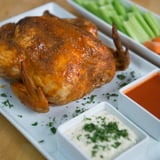 Ingredients
For the dry-rubbed chicken:
1 (5-pound) chicken
3 tablespoons brown sugar
1 tablespoon cayenne pepper
1 tablespoon garlic powder
1 tablespoon salt
1/2 tablespoon chili powder
1/2 tablespoon paprika
1/2 tablespoon white pepper
For the sauce:
6 tablespoons butter
1/4 cup hot sauce
2 tablespoons apple cider vinegar
1/2 tablespoon Worcestershire sauce
1 teaspoon cayenne pepper
1 teaspoon paprika
1/2 teaspoon garlic powder
1/2 teaspoon red chili flakes
To garnish:
1 cup buffalo wing sauce
Celery
Carrots
Blue cheese dressing
Directions
Remove and discard any organs from chicken and. Rinse chicken in cold water and pat dry.
In a bowl mix together the dry rub ingredients. Cover chicken with dry rub completely. Place in a large oven-safe dish and refrigerate for approximately 30 minutes.
Preheat oven to 375ºF. Place chicken in the oven and cook for approximately 40 minutes, or until the skin has browned and the internal temperature reads 160ºF.
While the chicken is cooking, set a medium sized sauce pot over medium heat and whisk together butter, hot sauce, vinegar, Worcestershire sauce, cayenne, paprika, garlic powder, and red chili flakes.
Remove chicken from the oven and coat with butter sauce. Return the chicken to the oven for an additional 30 minutes, basting with the sauce every 10 minutes, until the chicken temperature reaches 165ºF.
Remove chicken from the oven and serve warm with buffalo wing sauce, blue cheese dressing, and lots of carrots, and celery.
Information
Category

Main Dishes

Yield

Serves 6 to 8

Total Time

1 hour, 29 minutes, 59 seconds