Why I Love Pasta
Why My Love For Pasta Is More Than Just About Its Crazy-Delicious Taste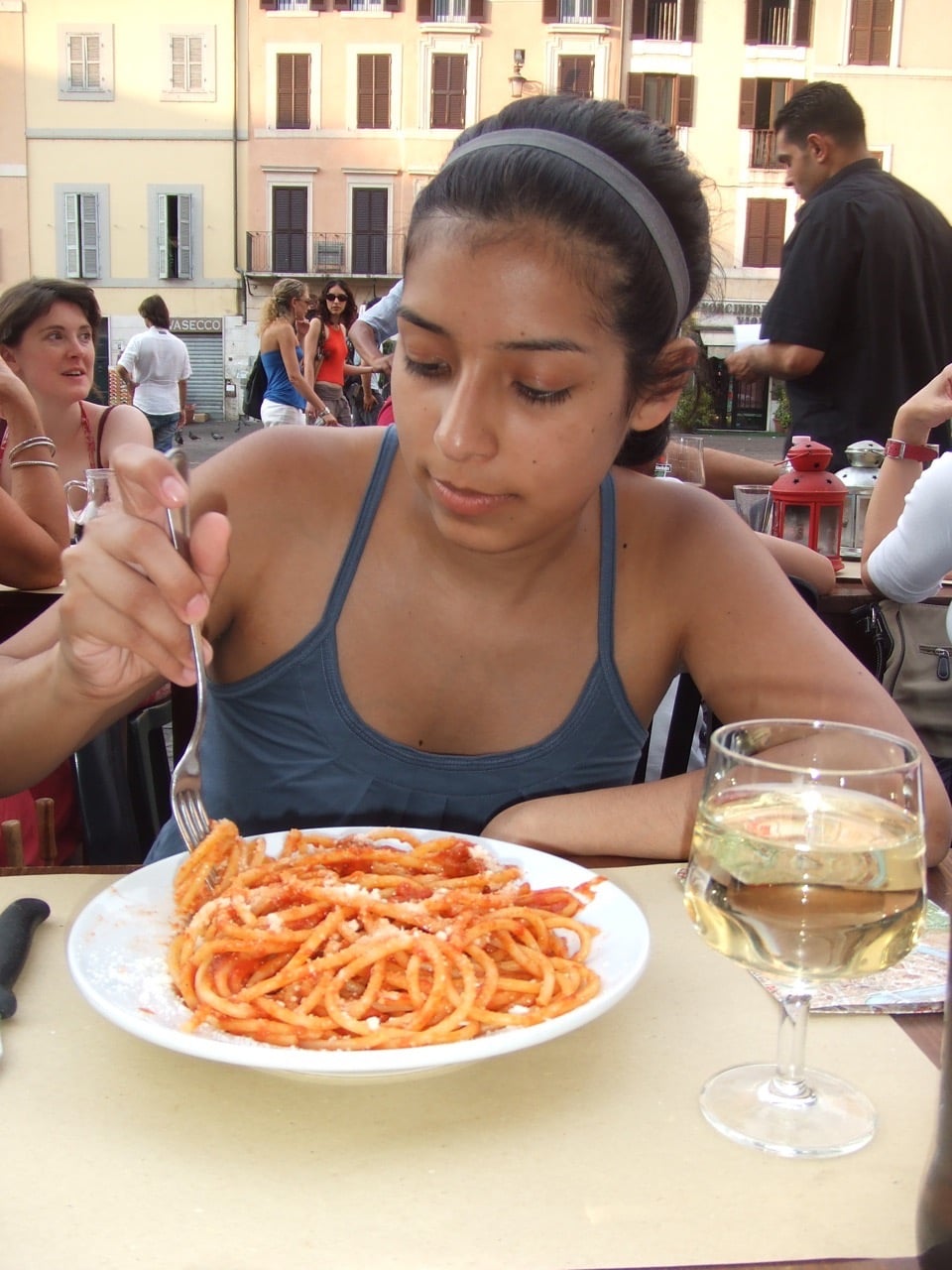 That's me, up there, one hot Summer in Rome, concentrating so hard on eating my plate of pasta I didn't even realize my husband was taking a picture. Not that I would have stopped eating if I had. My love for pasta runs deeper than looking presentable on a photo or paying attention to what my husband is saying to me. But he knows better than to talk to me while I slurp bucatini all'amatriciana — my all-time favorite dish — with its sweet red sauce, crunchy pancetta and Parmesan cheese. Instead he watches me glow as I enjoy bite after bite. He knows I'm at my happiest when a bowl of pasta al dente is in my presence. He makes sure I have it when I'm feeling sick or stressed out, and knows that celebrating my birthday, a new job, or a good day means pasta must be involved.
I don't remember the first time I had pasta. My mom tells me it was when I was 1, when as a picky eater with severe allergies I wouldn't touch most food. My eyes would light up at the sight of spaghetti with meat sauce (even though I hated tomatoes), which she made with hidden shredded carrots for extra nutrition. I would ask for more and more, and she would dish plate after plate of heaping angel hair noodles sans cheese (because I also hated it), relieved to have small little me eating something. And then, when I was 7 or 8, I finally ate too many plates, and she sat by my bed all night as I was sick, witnessing my years-long break up with tomato sauce. But . . . there was always pesto, alfredo, and more pesto.
Growing up in Lima, Peru, I always wished I was Italian. I have the name, thanks to my dad's love for soccer and Alessandro Costacurta. We ate lasagna when there was something to celebrate. There was always pasta in the cabinet at home. So, I started calling myself a fake Italian, openly and without shame, just like I do now as I attempt a little bit of the language to help tourists in the New York subways, dropping Milanese slang learned from my friend Michele, who is as obsessed with burritos as I'm obsessed with pasta.
I proudly make a pilgrimage to my favorite country every year, calling it home as I kick and scream when it's time to board a plane back to the U.S., wearing sweatpants because pants won't zip after my daily feasts. I talk about retiring in Palazzolo sull'Oglio were good restaurants are family owned and tiny, and they call me "the American." My soulmate is a man whose family has never married non-Italian and owned restaurant after restaurant until just a few years ago, growing up in the kitchen making stuffed shells when he was just a little blond kid. And like a great fake Italian I eat pasta as much as I can — tortellini with cheese and pesto, spaghetti with garlic and olive oil, tomato sauce over rigatoni, cacio e pepe. That's just in one week. (For the record, I work out a lot.)
I'm picky about the texture of the noodles (and I never call them macaroni). I care about sauce ratio, and have specifics depending on the dish. I know what shape is best for picking up each sauce in the most perfect way. And I know I can't make it to my strict standards.
My husband, as the Italian saint he is, knows this, too. So he makes tomato sauce and pesto by batches, freezing them so when I'm on my own for dinner I have my favorites to eat. Before he did this for me, his grandma, Grandma Josephine, did it, calling me from the restaurant to ask "what a-kinda pasta ya want today, monkey?" And every time she did this, and every time my husband asks the same, I feel thankful and utterly happy.
Call me cliché, but pasta to me means family. It means comfort and feeling taken care of. It reminds me of great nights with my fake Italian mom and my dad (who only makes alfredo sauce out of a packet), and most of all with my real Italian family who loves me as their own, letting me eat noodles with my hands as they finish making giant meals on holidays, understanding why I just can't wait until we sit down to munch on it.
So what if I want to recreate that feeling more than once a week? Like Federico Fellini once said: "Life is a combination of magic and pasta." Certo, Federico. Certo!
Image Source: Alessandra Foresto