Wild Mushroom Omelet
A Mushroom Omelet to Drive Vegetarians Wild
With the meaty texture of mushrooms plus the the light addition of feta cheese mousse, this Wild Mushroom Omelet from 21 Grams with satisfy your vegetarian cravings.
Wild Mushroom Omelet
21 Grams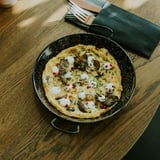 Ingredients
FOR OMELET:
3pcs free range eggs
15g oyster mushroom
15g brown mushroom
5g dried wild mushrooms
Pinch of salt
FOR MOUSSE:
50g Feta cheese
50g cream
FOR GARNISH:
Chives
Pink peppercorn 
Directions
For feta mousse, whip in the whipping cream in mixer until smooth and add in feta cheese to finish the mixture.
Gently mix with spatula adding more air to it.
For the omelet, whisk in the eggs.
Saute all of the mushrooms until they are golden brown.
Add in whisked eggs and start mixing the center of the pan with spatula until you get a desired temperature for your omelet.
Place it on a plate, add drops of feta mousse around the omelet and garnish with a pinch of pink peppercorn and chives.
Information
Category

Breakfast/Brunch

Yield

1

Total Time

9 minutes, 59 seconds