Wonut Recipe
Eat the Trend: The Wonut
Can't decide whether to start your day with a waffle or a doughnut? You don't have to: instead, dig into the latest pastry hybrid — the wonut — which combines the best qualities of the two. Dreamed up by Chicago's Waffles Café, these deep-fried, glazed belgian waffles are magical, irresistible, and easy enough to make at home.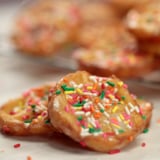 Ingredients
For the wonuts:
2 cups cake flour
2 teaspoons baking powder
1/2 teaspoon salt
4 large eggs, separated
2 tablespoons sugar
1/2 teaspoon vanilla extract
4 tablespoons unsalted butter, melted
2 cups milk
Oil, for frying
For the glaze:
1 1/2 cups powdered sugar, sifted
4 tablespoons milk
2 teaspoons vanilla extract
Rainbow sprinkles, for garnish
Directions
Preheat waffle iron according to instructions.
Sift flour into a large bowl. Add baking powder and salt. Mix thoroughly.
In a medium-sized bowl, beat together the egg yolks and sugar until creamy and pale yellow. Add vanilla extract, melted butter, and milk, and whisk to combine. Slowly add the wet ingredients to the flour, and mix until just blended. Be careful not to overmix.
Using a stand mixer, beat egg whites until soft peaks form. Fold the egg whites into the waffle batter until they are incorporated. Spray the waffle iron with nonstick cooking spray, and pour enough batter into the iron to cover the waffle grid. Close the waffle iron and cook the waffles for about 2 to 3 minutes or until they are golden and cooked through. Remove from the iron, and repeat with the rest of the batter.
Heat 3 inches of oil in a heavy-bottomed dutch oven or electric deep fryer to 350ºF. Using a 3-inch-round biscuit cutter, cut waffles out into round disks and fry them 2 to 3 at a time for 1 minute on each side until golden brown. Place wonuts on a paper-towel-lined plate to drain off any excess oil.
In a shallow bowl, mix together the powdered sugar, milk, and vanilla until smooth. Dip wonuts into the glaze to coat, and then transfer to a wire rack. Garnish with sprinkles, and serve hot.
Information
Category

Desserts

Yield

4 dozen wonuts