Get Rooney Mara's Modern Art Deco Look From Oscars 2012
Stealing the Look: Rooney Mara at the Oscars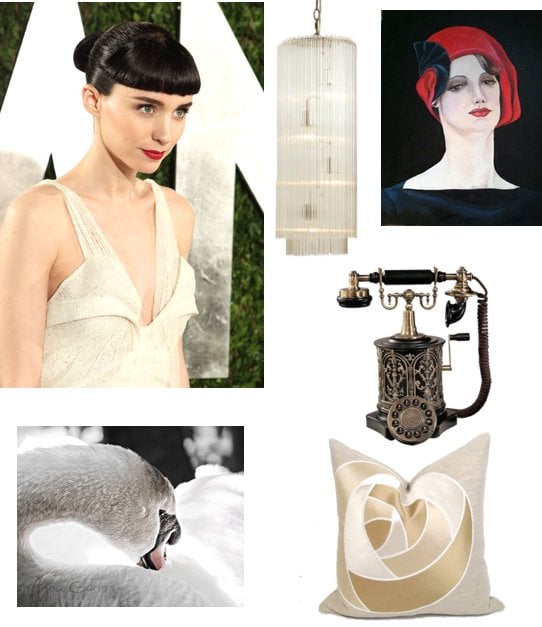 The Girl With the Dragon Tattoo leading lady and Oscar nominee Rooney Mara wasn't the only star wearing white at the 84th Academy Awards, but she certainly was one of the most memorable. With porcelain skin, red lips, full brows, and raven hair, she reminded me of a modern Audrey Hepburn — with a bit more edge of course. The origami folds and lace details of her Givenchy gown created an interesting mix of softness and structure. Replicate Rooney's Oscar look for the home by honing in on pieces that evoke old Hollywood glamour with a modern spin.
Keep an eye out for period paintings depicting fashionable ladies of the era, like this Cloche Painting ($80). The black, cream, and bright red palette perfectly echos the colors of Rooney's look.
This Ivory Pillow Cover ($100) in cream, ivory, and gold tones reminds me of a Georgia O'Keeffe painting. The shimmering silk material of the flowers adds a luxurious element to basic linen.
Swan motifs were popular in the art deco era. Instead of opting for a traditional piece of artwork, though, look for interesting photos of swans, like this Swan Preening print ($18).
Click on the images in the layout to shop directly!