Heated Stool For Winter
The Best Way to Warm Your Butt This Winter, Literally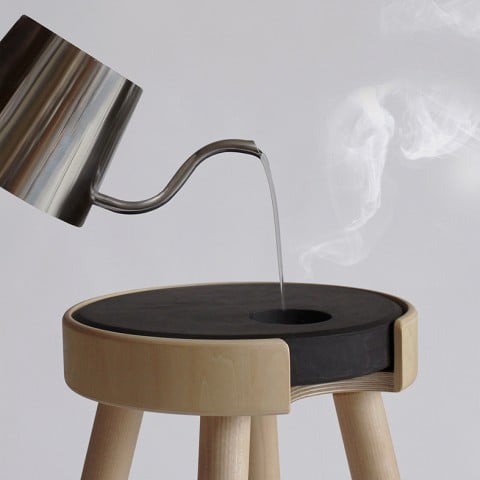 Let's face it. When it's cold outside, we'll do anything to keep warm. Throw on extra layers. Build a fire. Make a steaming cup of hot chocolate. But what if it was as easy as simply sitting down? I recently went to the largest housewares trade show in the world, Ambiente. There were millions of products on display from over 140 countries, and the one thing that my fellow reporters and I were most obsessed with was the Warm Stool.
First of all, the name. Say it aloud and try not to smile. Warm stool. Now, say it slowly. Warm stooooooool. You've gotta love a company that just names its product exactly what it is. (How much easier would it be to pronounce those Ikea names?) Then you have the design, which is streamlined and pleasing to the eye. A small three-legged wooden stool with no frills. But the real kicker, and the detail that won us all over, is the ceramic container used for the seat. You can fill this puppy up with hot water and it will keep your buns warm for hours!
How genius is that? I see millions of office workers in drafty buildings throwing their sweatshirts, cardigans, and coats to the floor with glee as they toast their junk in the trunk. I see children beaming with joy as they race inside to place their little tushies down on this magical disk after a long day of sledding. I see Alaskan ice fishermen sitting with their arses in nothing but swim trunks and pulling up the biggest catches of their lives! I see a world that is filled with cheeks as warm and toasty as Frosty the Snowman in a greenhouse.
However, I wouldn't throw out your long johns just yet. Unfortunately, this is still a concept item for the designers at Bouillon. They hope to have Warm Stool available for purchase in the near future. Until then, it looks like cold booties are what we're stuck with.