Living Room Rug Before and After
The 1 Purchase That Completely Transformed My Living Room For the Better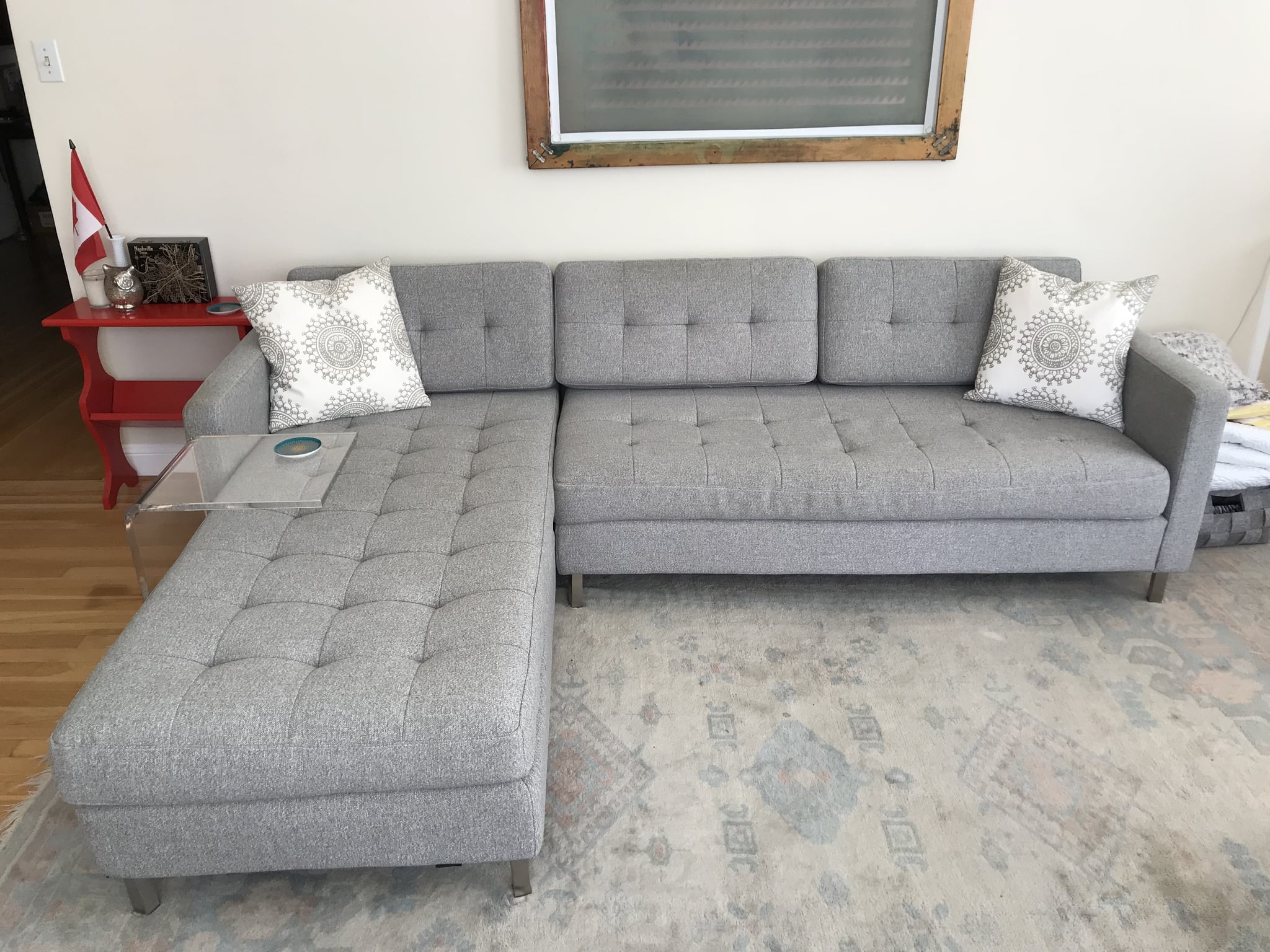 Transitioning from my postcollege Ikea and hand-me-down furniture years to a 30-something home dweller with "adult"-quality pieces has been a decade-long process. Over the years, I've swapped out various cheap or outdated chairs, bookcases, dressers, tables, and even our bed and sofa, but one of the most daunting purchases I've continued to put off is a new area rug for our living room. Since moving into our apartment more than five years ago, we've had my parents' well-used oriental rug they bought in the early '80s on display in our apartment's main living space. A quality piece, sure, but it was faded to the point where you couldn't really decipher a pattern anymore, with various stains and discolorations. As you can see in the photo above, not great.
The Struggle
The two major things holding me back from buying a new rug were the cost and the style. To spend a fair amount of money on a large, quality area rug, you want to make sure you're buying something you'll love and continue to love for years to come. I was scared to commit to something with a lot of pattern or color in case I got sick of it or wanted to switch up the style of our space. My gut instinct was to go with something simple in a neutral color. The only problem is that when it comes to color options for pretty much anything, I typically gravitate toward gray, so almost everything in the living room was already on the grayish side — pillows, throws, sectional, desk, coffee table, etc. I worried that if I went with a "safe" neutral-colored rug, the whole room would continue to look bland and boring. I also need to give credit where credit is due. My husband was the one pushing for "something with color" as he hated the old rug and desperately wanted something colorful to infuse some life into the space.
The Search Begins . . . and Ends
I conceded and agreed it was time to bite the bullet and get a new rug . . . with color. So I went to Pinterest and pinned the sh*t out of my favorite rug styles. I started to notice a pattern with what I was drawn to — I loved the look of bold red Persian and oriental rugs, especially when paired with natural woods and grays, similar to our current living room look. After getting the thumbs up from my husband and doing some online research on what to look for in terms of quality, I went forth to "just look" at what was available at my favorite monthly event, the Alameda swap meet. I had looked at rugs online, but I really wanted to see one in person to get a more accurate read of the color and feel.
Now, Alameda is an enormous flea market with quite a few rug vendors, so it was overwhelming at first to flip through rugs row after row. But, only a few rows, in I spotted "the one" peeking out from under a pile. I was still early in my hunt, so after inquiring about the price, I continued on. But every rug I saw after that just didn't compare to that one, and I started to get more and more anxious about someone else snagging it. I practically ran back to "the one" and examined it closer, asking the vendor more questions and negotiating a cheaper price before pulling the trigger.
The "After"
Money exchanged hands and the rug was stuffed into our Mini, but the nerves started to kick in as I questioned myself the whole drive home. What if it didn't look good in the space? What if it clashed with the sofa? What if the color was all wrong and I was too blinded by the giddy excitement of the swap meet to realize it? Well, I'm happy to report that the rug was a great success, and, in fact, it completely and utterly transformed our living room in the best possible way. All we keep saying every day since then is, "Wow, thank God we got that rug." It just makes us both so happy and warms up the space. I couldn't believe how big of an impact it had on the entire apartment, and I'm so glad that I took a risk with a bold color and didn't go with something "safe." You only live once, and it's amazing how something as silly as a rug can improve your space and, in turn, your well-being.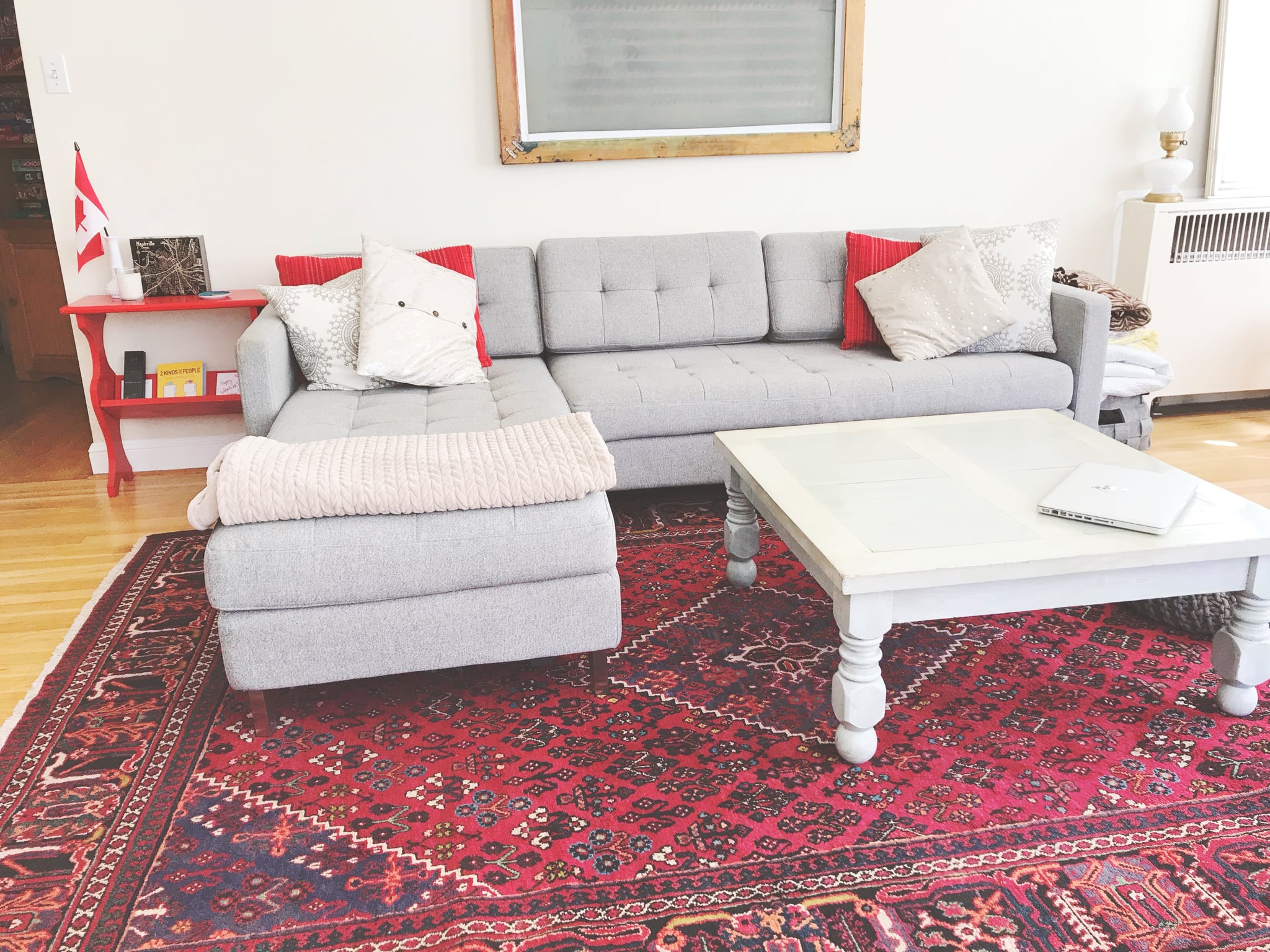 Image Source: POPSUGAR Photography / Tara Block