Pleated Home Decor
Perfectly Modern Pleats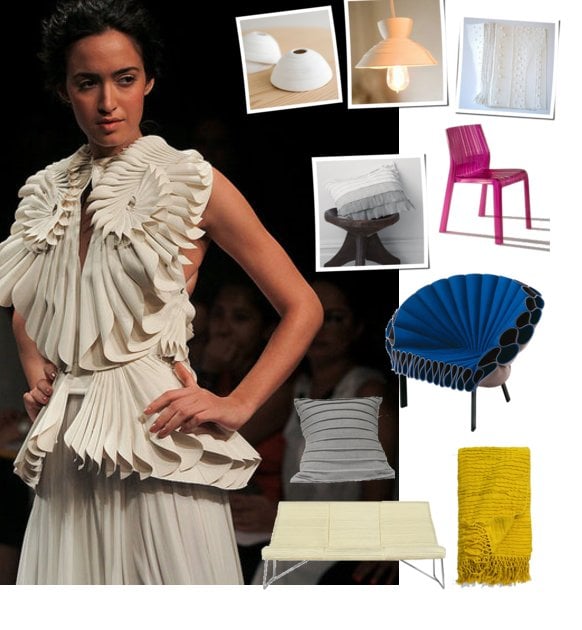 This week, pleats added major drama to the Swapnil Shinde show at Lakmé Fashion Week Winter Festive 2011 Day in Mumbai, India. I love the 21st-century take on the classic fabric technique. Pleats come in many variations, including accordion, box, cartridge, fluted, and honeycomb; however, in its most basic form, a pleat is simply defined by folding a piece of fabric back on itself and then securing the fabric in place. While Shinde's are more complex than most (and remind me very much of designer Leanne Marshall's work), they are still, in essence, simple pleats. Used in clothing and upholstery, pleats can add a dynamic quality to the most simple piece.
My absolute favorite furniture design take on modern pleats is the Peacock Chair ($7,200, blue chair, middle row). Designed in 2009 by Dror Benshetrit, it features a dark brown powder-varnished metal base, which is layered with crumpled sheets of felt.


Another more affordable option for modern pleats is the Original Embroidered Paper Art ($85, top row, right) from British-based designer Karen Ruane. Even though this original artwork was inspired by Ruane's grandmother's vintage lace, it has a very modern feel. I'd love to see it framed in a simple black lacquer frame and hung. The piece combines embroidery and paper manipulation techniques and features areas of pricked and hand-stitched paper as well as an area of densely pleated white silk.


Did something else in the roundup catch your eye? Just click on each image to find out more!