Shopping For Crewel Pillows and Lampshades
Crewel to Be Kind: Modern Takes on This Old-School Embroidery Technique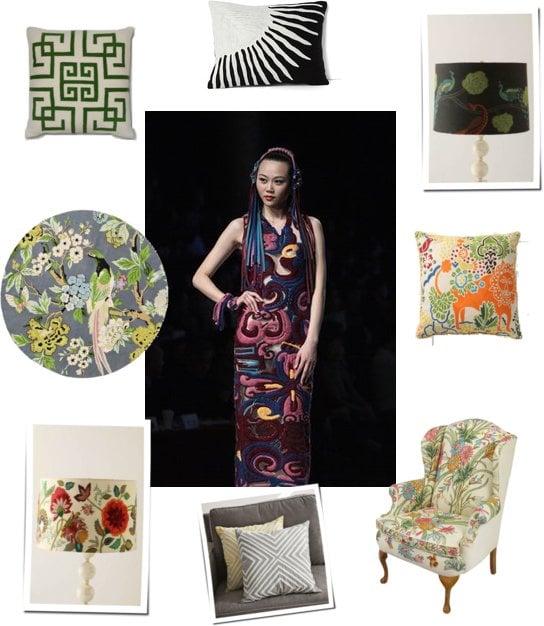 From home decor to fashion, needlework is all the rage. This daringly dressed model was seen today on the catwalk during the Beijing Institute of Fashion Technology Graduates Show 2012 at China Fashion Week. Her sculptural dress is created from loops of thread stitched using a crewel technique.
Crewel embroidery, also known as crewelwork, is at least 1,000 years old. Traditionally, it's used wool thread to create patterns and decorations on fabric, either following a drawn design or using a freehand technique. The traditional version of crewelwork, known as Jacobean embroidery, features stylized flora and fauna designs, though modern motifs are also becoming much more common in design. And while crewelwork was once treasured for decorating homes in the form of bed hangings and curtains, it's now more commonly seen in pillows and rugs. In particular, Jonathan Adler has championed the technique in recent years, but he's far from alone in his admiration of this type of needlework.
Currently, I'm coveting the Plumage Lampshade ($108, top right corner), which features silk-embroidered birds against a navy background. While the birds stand out strongly when the lamp is shut off, they blend into the background when the lamp is switched on.
To enjoy this look on a budget, pick up one of the Crewel Pillow Covers ($34, bottom row, middle) from West Elm. Inspired by '70s minimalist art, these pillow covers are embellished with embroidered geometric patterns.