#AleppoIsBurning Raises Awareness For Syria
Why Isn't Facebook's Safety Check Where It's Needed Most?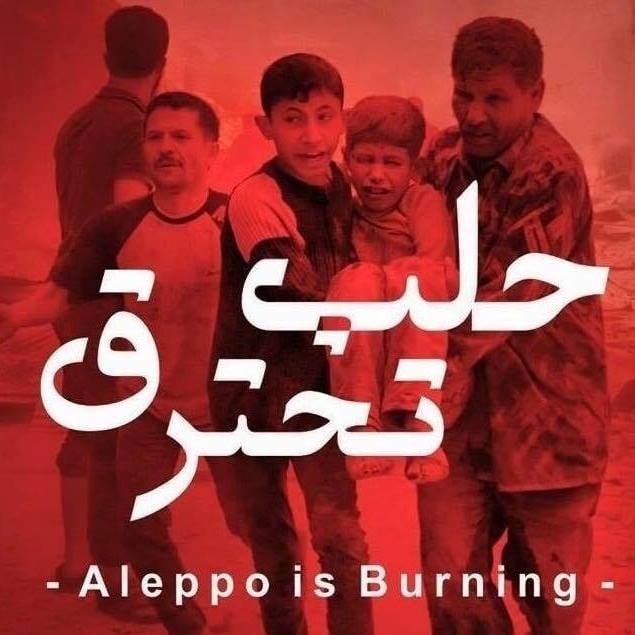 As human tragedy increases in the Syrian city of Aleppo, people in the Middle East and beyond are gathering behind the hashtag #AleppoIsBurning to raise awareness and bring attention to Syria as the war escalates.
The hashtag is a place for people to come together, and with it, ask questions about why the lives lost in Aleppo aren't getting the same recognition as those lost in other recent attacks, such as Paris or Brussels.
Another hashtag, #MakeFacebookRed, calls upon the platform to create a filter and safety-check feature for the people of Syria.
May 1, 2016
For the attacks in both Paris and Brussels, as well as other recent natural disasters, Facebook has enabled a "safety check" element that allows people in affected areas to "check-in" online, letting their friends and family know that they are safe.
Last November, Facebook explained its reason for not implementing the safety-check feature for a situation like Syria, saying, "During an ongoing crisis, like war or epidemic, Safety Check in its current form is not that useful for people: because there isn't a clear start or end point and, unfortunately, it's impossible to know when someone is truly 'safe.'"
While Facebook is right that the war has left Syrians in a precarious position, not implementing a safety check-in for Syrians seems to trivialize the lives and situations of those being affected. Without a safety check-in or even a filter, which was created for Paris and for Prop 8, Facebook is participating in a long tradition of devaluing Muslim lives and putting those of Westerners on a pedestal.
With many users threatening to deactivate their Facebook accounts until an option to change profile pictures in recognition of Syria is in place, the hashtags #AleppoIsBurning and #MakeFacebookRed are gaining momentum worldwide.
With both social media campaigns, spaces have been created for Syrian voices to be heard, and for people across the globe to participate in the conversation and show their support. Until Facebook gives the people of Syria the attention they deserve, #AleppoIsBurning and #MakeFacebookRed will help raise awareness and keep conversations open.
Listen up world, you are being addressed. It is not just a movie, #AleppoIsBurning and the people will not be silent pic.twitter.com/dM8QU2Is1W

— AleppoIsBurning (@aleppoisburning) May 1, 2016
Image Source: Facebook