Become Self-Employed
6 Tips For Becoming Self-Employed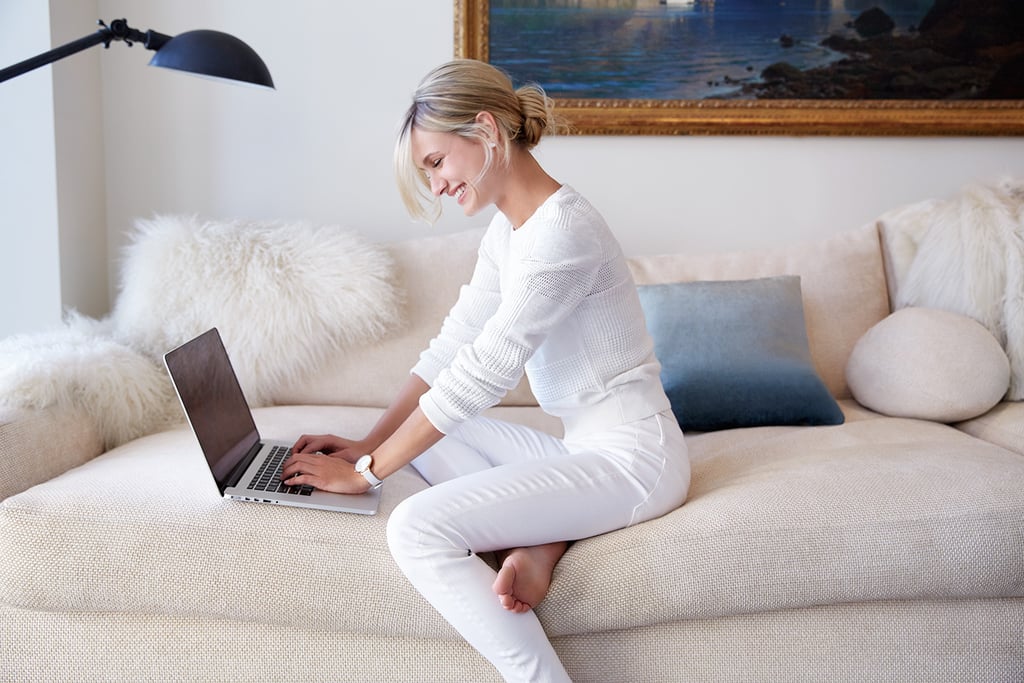 Whenever I watch Jenna Marbles on YouTube, I'm laughing my ass off. I'm also admiring my ass off; Jenna makes up to a cool $1 million annually from her YouTube career alone (and she's part of other ventures, too). In an interview for The New York Times, she says, "What I get to do is have fun in my house, by myself, and put it on the Internet." And then make a ton of money. Lucky girl!
We may not all be cut out for YouTube success, but there are other ways to become your own boss: authors, business owners, tutors, freelance designers, consultants, and bloggers are just a few more career paths that allow for the luxury of self-employment. "Pfffft," you may be thinking. "There's no way I can leave my office job for that!" Actually, you can, if you really, really want to — and you have the sort of aggressive drive needed for success. Here's how to ban the phrase "OK, boss" from your vocabulary.
1. Practice before you begin.
Don't jump into it before giving it a little test run, says Jill Jacinto, a millennial career expert for WORKS. "Before you dive right into working for yourself, try it out on the side," she says. "Freelance your passion projects and see if dealing with the small details like finance, accounting, marketing, and paperwork derail you from becoming your own boss." It's not easy as pie; there are a lot of little things that go into self-employment — you'll want to make sure you're up for all the tasks. Even the not-so-fun ones.
2. Develop a well-thought-out game plan.
"You want to know what your business concept is, how long it will take you to make money, and what it will look like every day," says Jane Miller, CEO and founder of JaneKnows.com, which provides career advice to millennials. "For example, where you will work, what you will do, and the hours it will take." Map it all out on a spreadsheet or in a journal. What's your overall goal, and how are you going to get there? What's your mission statement? Just brainstorming your ideas on paper will help get you started.
3. Have enough money in savings to give you breathing room.
"You don't want to be going out on your own and then get freaked out because your rent is due and that first client hasn't paid," Miller says. "Ideally, [you'll need] one year to cover your everyday expenses, plus a cushion for necessities like a monthly pedicure." So if you're not at that point yet, then save, save, save! You should have enough cash stored for a semicomfortable year, even if, as Miller says, none of your clients pull through. If you're passionate enough, consider a part-time job to speed up the process.
4. Find a great working space to frequent.
If you'll be needing a bigger area for your business, consider a coworking space. "These are easy to find and are not expensive," Miller says. "You pay a monthly fee for Internet and for the use of the space. You can come and go as you like. They also have wonderful networking events!" If you don't have the budget for a coworking space and you know you won't be taking up much room, then consider a cafe, a library, or your own home — in which case, you should invest in speedy WiFi.
5. Divide your time wisely.
Break up your weeks into what needs to get done. "Come up with a daily and weekly schedule for yourself — when you will work, take breaks, [and] have lunch," says Hallie Crawford, career coach and founder of HallieCrawford.com, which helps people discover their career paths. "Budget your time so you're only doing administration work on Mondays and Tuesdays, for example, marketing on another day, and coaching on another. Figure out how to be efficient with your time." And try your best not to get sidetracked — rather, be a total stickler about your calendar.
6. Rely on others to help you stay on track.
Miller has advice for avoiding the state of total solitude: "Remember, it can be lonely at the top, so develop a great support network to run your ideas by," she says. "When you are in the office, you always have co-workers to bounce around ideas. When you are your own boss, you need a few trusted colleagues who can give you honest feedback." Whether you've got a few close friends who are available for Skype dates or a mentor in the industry you want to break into, take their comments seriously.
Crawford backs up the notion that soaking up opinions from trusted ones is key to your success: "You need to make sure you get enough stimulation from others outside your office, so you don't feel too isolated," she says. "Be willing to take advice from others as well. Assemble a team of advisers who will help you grow your business, write your business plan, and keep you on track." It's easy to become wrapped up in your ways when you're self-employed, so it's always important to stay grounded — a good life lesson for any situation!