Can a Pet Make You Happier?
My Dog Improves My Mental Health and Happiness in the Best Possible Ways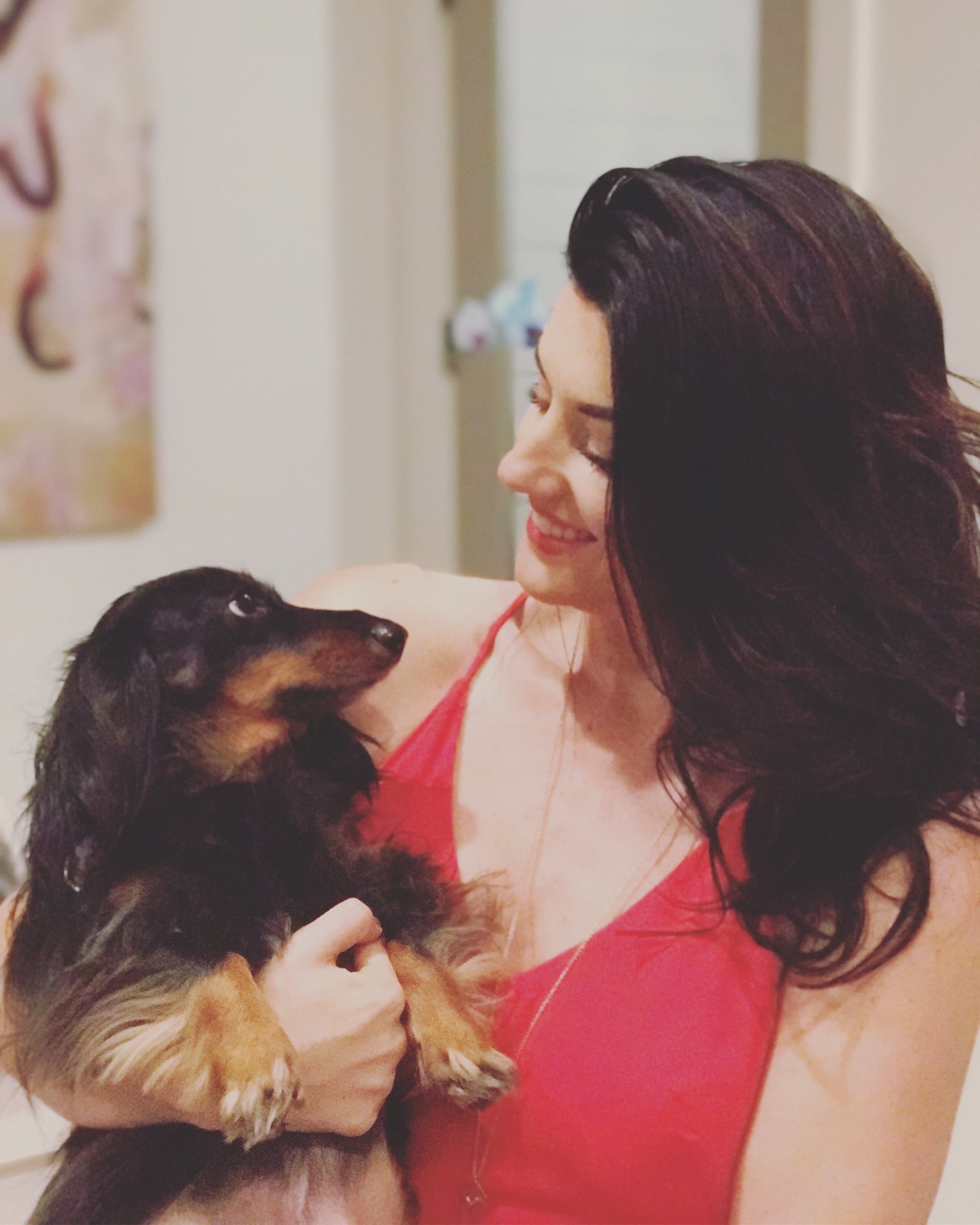 I've shuffled through a lot of frames in my life, both euphoric and traumatic. There was the tragedy in childhood that still causes me to jolt at the sound of sirens, and the abusive relationship in early adulthood that nearly smothered my sense of self. But there was also the indescribable afternoon spent sipping Rosé while traversing across Napa Valley with my family, and the experience of some of my wildest, most ambitious career goals being realized. Through the highs, lows, and everything in between, I have come to know for certain that nothing quite compares to a wet nose bonking up against me at the end of the day.
Five years ago, just days after my husband and I exchanged vows of forever under an oak tree on his family's 200 year-old property, we made an autumn drive through the country to find the other love of my life. We would name her Lucy.
She was one of three girls remaining in her litter of long-haired dachshunds. She looked like a character Walt Disney would have drawn, cutting her gaze from side to side as though she was full of hope but void of expectation. My husband was drawn like a magnet to her, cooing, "Lacey, I like this one . . ." as he scooped her up from her blanket in a box and kissed her tiny snout softly. He then passed her over to me, and she curled her head into my neck. Her brown eyes locked into mine as if to say, "I'm home."
Half an hour later, my husband was jerking the car over to the side of the road because — this time — she had projectile vomited all of her puppy chow into my neck. And it was sort of ominous. In the months that followed, she urinated into everything from the air vents in our home to my brand new red suede booties, and once into my freshly blown-out hair while I stretched across the couch. Thankfully, life with her would become less frightful on the other side of puppyhood.
Our bond deepened every time she rolled onto her back, playfully wooing me for a belly rub. It expanded every time her fur stood at attention upon an "intruder" daring to cross our path. She'd bark and hop wildly, once even untying an electrician's shoelaces when he took a step too close to me. I discovered that, although she has the stature of an over-sized squirrel, she has the heart of a lion. And I learned all of the ways she would faithfully show up to comfort me — through silly arguments with girlfriends, to inexplicable bouts of self-deprecation, to the unexpected visits from thoughts carrying old traumas, to the grief of the opportunity on high that dangled like a carrot before me, only to flutter away with the inevitable "sorry, girl, maybe next time."
She has taught me more about forgiveness, love, loyalty and the sweetness of just being in the "now" than any book, motivational speech or mentor ever has.
When I'm sick, it's as though she is trying to conquer my woes with all of the might of her 15-pound body. Not long ago, I was plagued with food poisoning. I spent the night in a fetal position, groaning and shivering under the comforter. My husband rubbed my hand until he fell asleep. Lucy curled onto my pillow, her chin pressing against my forehead protectively. Anytime I dared to toss, turn or pull away, she'd inch her way back to me — determined to keep her fur pressed against my clammy, aching skin.
When I'm anxious, she senses it. She will search the entire house to find me, then hover over me as though she is my guardian. One afternoon, not long ago, I was sprawled across my yoga mat, staring blankly up at the ceiling — caught in a tornado of overwhelm that was brought on by an impossible to-do list. Just as the tears and F-bombs were about to flow, I saw her snout positioned mere inches from my face — her whiskers spread out and glistening in the golden afternoon sunlight like an armor over me. All I could do was let the laughter burst straight out of me.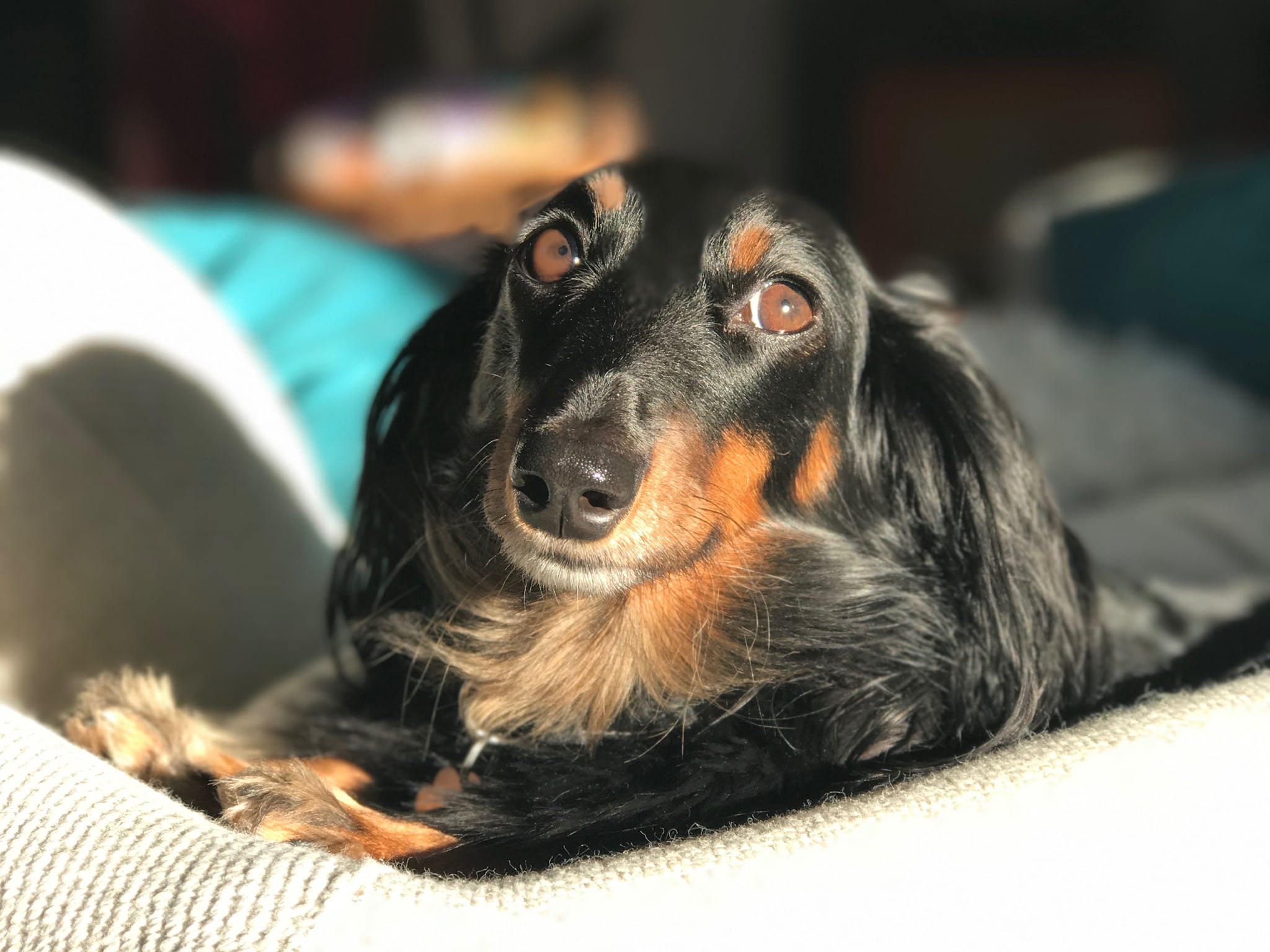 In essence, my dog's presence rattles me awake and alerts me to all of the beauty in the world. Each time my husband and I take her for walks, she smiles, trots and wags her entire body in such a way that, for me, I don't need much else in the way of a pep talk. She is carried by curiosity and wonder — whisked by the lightness of having breath. Every moment for her is an adventure. She is in awe of the birds, the squirrels, the smells and the sun — just relishing the wind in her fur. The mere act of witnessing her being so alive, happy and full of wonderment is enough to invite me to also be that alive, happy and full of wonderment.
I'm sure some people think my adoration of her is excessive. Because, most of the time, she takes the limelight in my Instagram stories. I dote over her the way most people dote over their newborn babies. But I don't care what anyone thinks. Lucy is the most abundant and majestic source of entertainment, hilarity and comfort I've ever known. She may be an animal, but she is one of the most profound presences of light and truth in my life. She has taught me more about forgiveness, love, loyalty and the sweetness of just being in the "now" than any book, motivational speech or mentor ever has.
Image Source: POPSUGAR Photography / Lacey Johnson