DIY Bug-Repellant Candle Jars
Keep Bugs Away With Scented Floating Candle Jars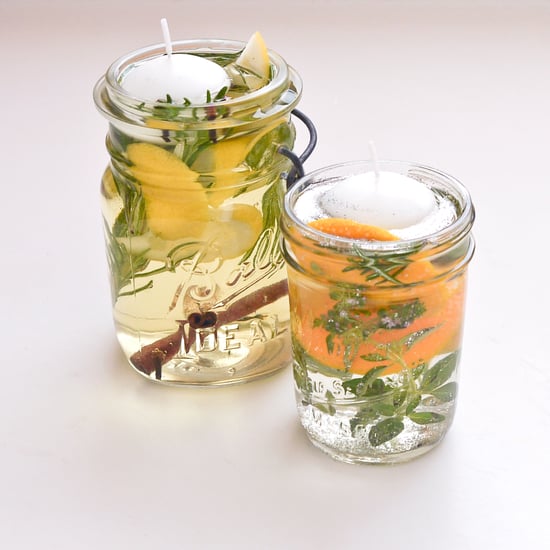 Enjoy your Summer nights with the help of scented glass jars topped with floating candles that keep bugs away. We saw this smart idea on Pinterest and had to give it a try for ourselves. Along with being easy, this DIY gives your lemon and orange peels a second life — and you can toss the ends of fresh herbs into the mix too. With the help of citronella essential oil, which you can find at your local health food store, and a few floating candles from the dollar store, the result is a really cute outdoor candle that also keeps pesky insects from bugging you. Here are a few tips for putting your jars together:
Fill the jars with odds and ends to create a really beautiful scent that will waft from the jar. Bugs don't care for the smell of lemon, orange, cinnamon, lavender, or rosemary, which gives any citrus rinds or ends of these herbs and seasonings a good use. Cut the items into two-inch sections so they don't bunch the top of jars and overturn the floating candle.
After placing items in the jars, add 20 to 30 drops of the citronella essential oil, and then top with hot water around 100˚F, which will warm all those tidbits and develop the scent. For fun, add a drop of food coloring to jars, or make them sparkle with the addition of superfine glitter, which looks really chic. Allow the water to cool before taking outdoors.
Float a citronella-, rosemary-, or vanilla-scented candle at the top of the jar and light. The finished candles look awesome at night and are wonderfully safe for small areas. But we did find you need quite a few bunched together to really keep some bugs from visiting. So make a collection, arrange them around your patio, and sit back and enjoy the glow — and your bug-free outdoors!
Image Source: POPSUGAR Photography / Sarah Lipoff