Dubai Tests Flying Taxis For First Time
Dubai's Sheikh Hamdan Got a Feel of the World's First Autonomous Flying Taxi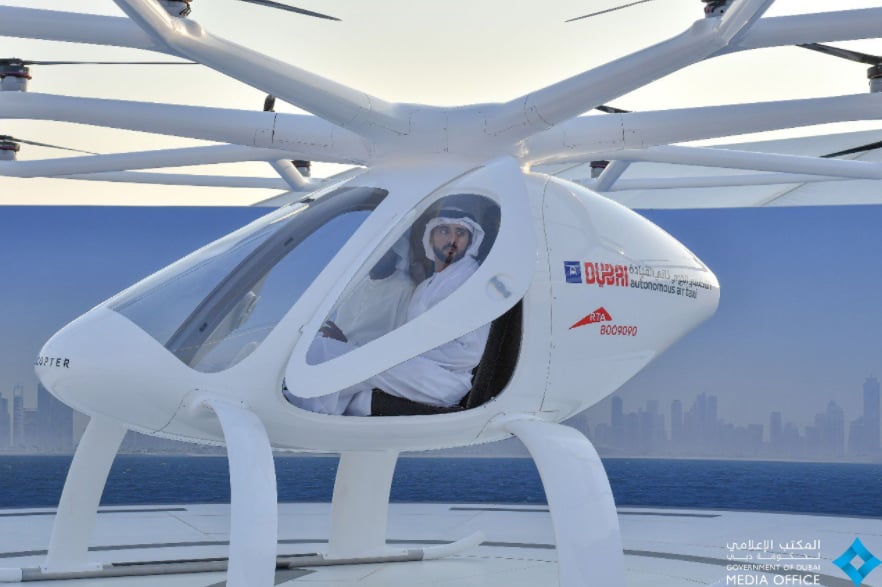 It looks like Dubai is still on track to become the world's first city with flying taxis, the Roads and Transport Authority took their first one out for a test ride on Monday.
Crown Prince, Sheikh Hamdan bin Mohammed, was there to witness the flight, even climbing in at one point to test out the comfy seats. Developed by German drone company Volocopter, it can fit two people in and has 18 propellers, plus back up batteries and parachutes for extra safety precautions.
It's all part of the emirate's plan to transform 25 percent of passenger journeys in the to autonomous vehicles by 2030. The air taxis have a maximum flight time of 30 minutes with airspeed of 50-100 km/h. Bonus: It's powered by clean electricity so has low noice levels and won't disturb people on the ground.
"Today I saw test flight of Autonomous Air Taxi, world's 1st self-flying taxi, which adds to our record as a nation that embraces the future," Sheikh Hamdan Tweeted to approximately 2.96 million followers. "Under our leadership, we have built an environment that nurtures innovation, and has made UAE a place that attracts world's brightest minds."
Later adding: "We are racing ahead of time implementing tomorrow's projects today, exploring opportunities to serve the community & create a happy society."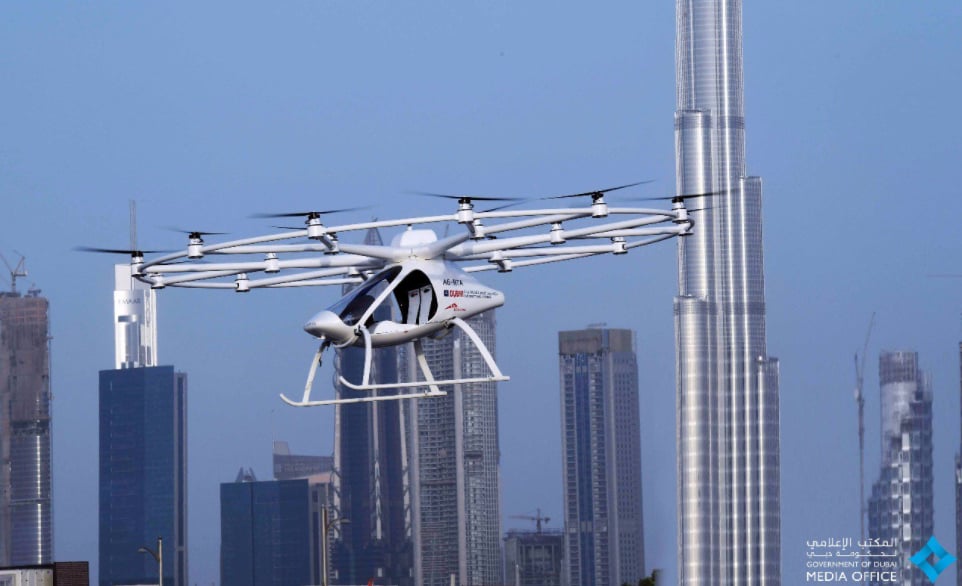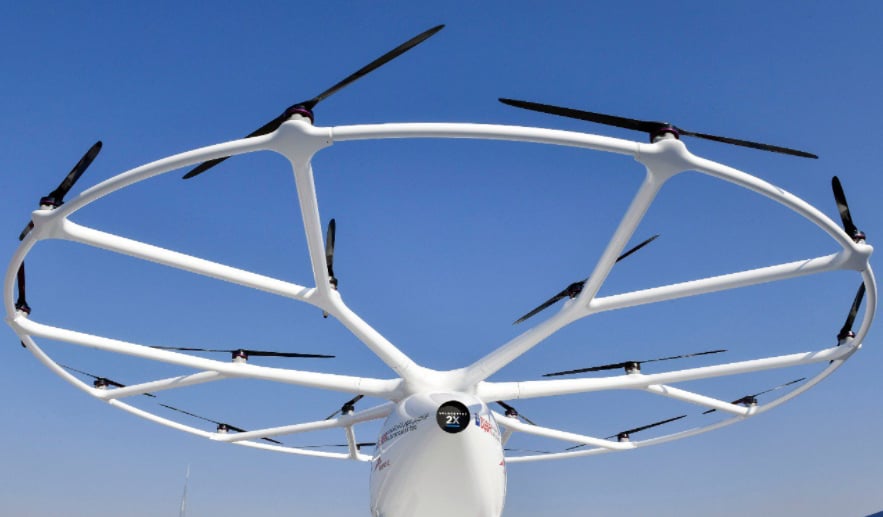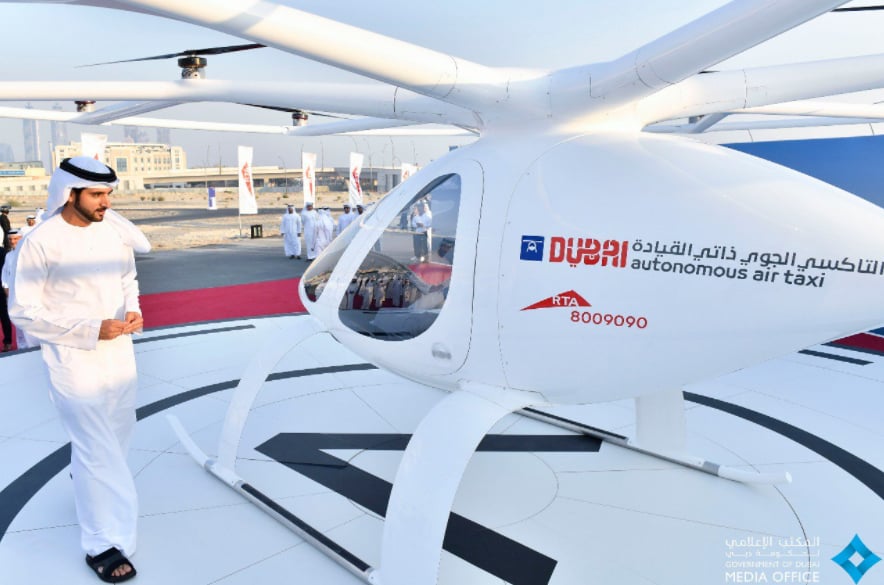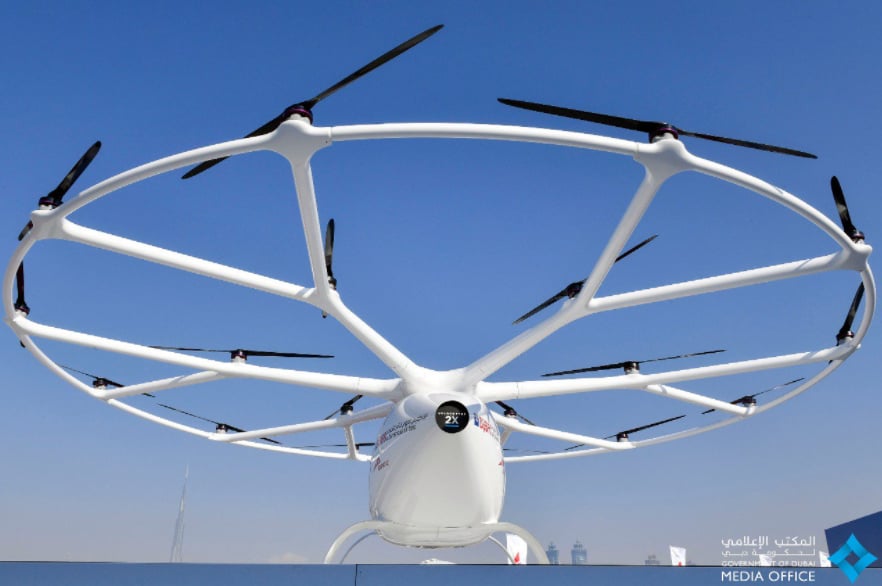 Dubai is definitely the city of the future.
There are also plans for driverless transport on the ground. new technology was tested out in countries such as the UAE, Singapore, the United States and Britain.
His Highness Sheikh Mohammed bin Rashid Al Maktoum, Vice-President and Prime Minister of the UAE and Ruler of Dubai, launched the Dubai Smart Autonomous Mobility Strategy where 12.2 percent of Metro rides (compared with 8.8 percent last year) would be driverless and even 6.4 percent of buses will be too.
Autonomous Air Taxi is an environmentally-friendly vehicle that has a maximum flight time of 30 minutes with airspeed of 50-100 km/h #Dubai pic.twitter.com/JZ5pMJdcsz

— Dubai Media Office (@DXBMediaOffice) September 25, 2017
Under our leadership, we have built an environment that nurtures innovation, and has made UAE a place that attracts world's brightest minds pic.twitter.com/7fVlQuCSj6

— Hamdan bin Mohammed (@HamdanMohammed) September 25, 2017
Image Source: Twitter user DubaiMediaOffice